Sophomore Kacy Nehowig and ninth grader Kaitlyn Frenchick qualified for the Class A state cross country meet by placing in the top ten individually in Section 5A on Thursday. Nehowig placed fifth at the section meet in Becker to qualify for state again, and Frenchick finished tenth to qualify for state for the first time.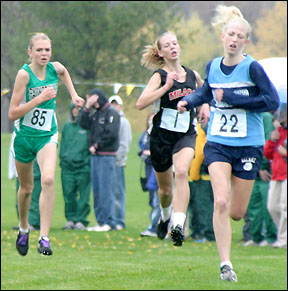 The Bulldogs, as a team, finished sixth in Section 5A. Becker (43) won the section crown, and St. Cloud Cathedral (85) took second to qualify for state again.
Ninth grader Kaitlyn Frenchick used a sprint in the homestretch to catch this Milaca runner and finish 10th individually in Section 5A. Frenchick claimed the last state-qualifying spot with her stretch sprint.
Nehowig finished fifth in the 4,000-meter race at the Pebble Creek Golf Course in Becker on Thursday despite the wet conditions that had runners tromping through standing water in places and had spectators wrapped in rainsuits and carrying umbrellas. Her time was 15:55.
She has now placed in the top five at sections for three straight years, each time qualifying for state individually. She was third in Section 5A in both 2002 and 2003.
Nehowig, the daughter of Deb and Kyle Nehowig, will run at state for the fourth straight year. She helped the Dogs take second in state as a team in 2001, and she earned All State honors by finishing in the top 25 individually at state in 2002 and 2003. She has finished 17th at state the past two years.
Frenchick, the daughter of George and Lynda Frenchick, used a late burst to qualify for state. She was 11th overall entering the homestretch at Becker but passed a runner right before the finish line to take tenth place by half a body length. Her time was 16:07.
Frenchick will run at state for a second time, though for a first time as an individual. She ran with the team in 2002, when the Dogs took ninth at state.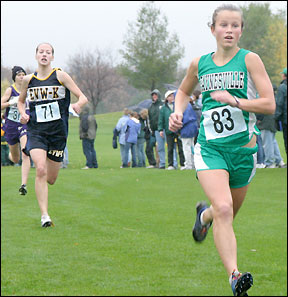 Last year, Frenchick placed 12th in Section 5A, missing an individual state berth by two places. She improved her time by four seconds this year and her placing by two spots in qualifying for state.
Sophomore Kacy Nehowig led a group of runners on a back stretch at the Pebble Creek Golf Course in Becker on Thursday. Nehowig placed fifth, her third straight top five finish at section.
The state cross country meet will be held on Saturday, Nov. 6, at St. Olaf College in Northfield. The Class A girls' race will be the day's first race at 10 a.m., followed by the Class A boys at 11 a.m., the Class AA girls at 1 p.m., and the Class AA boys at 2 p.m. The Class A awards ceremony will start approximately 30 minutes after the completion of both the Class A boys race.
The Dogs' team score at sections was completed by sophomore Tanis Beireis (41st), ninth grader Tarin Beireis (42nd), and ninth grader Melanie Koerner (44th).
Team Scores
1. Becker 43
2. St. Cloud Cathedral 85
3. Rockford 92
4. Albany 105
5. EV-W/Kimball 118
6. Paynesville 140
7. Annandale 144
8. Onamia 178
Individual Results
5. Kacy Nehowig 15:55
10. Kaitlyn Frenchick 16:07
41. Tanis Beireis 18:25
42. Tarin Beireis 18:30
44. Melanie Koerner 18:50
46. Kally Felling 18:53
48. Sheena Hoekstra 19:29
---
Contact the author at editor@paynesvillepress.com • Return to Sports
Home | Marketplace | Community
---