The Bulldogs boys' cross country team finished seventh in Section 5A on a rainy Thursday over a wet course at the Pebble Creek Golf Course in Becker.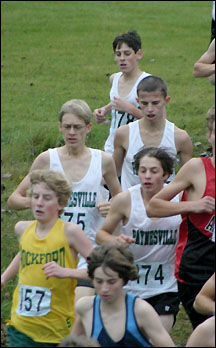 Running in the rain on Thursday afternoon, the Dogs finished seventh to complete this 2004 season.
Members of the boys' team - Dugan Flanders, Peder Thompson, Josh Sturtz, and Jamison Wall - coast down a hill at Becker last week.
Senior Matt Mehr finished 19th to lead the Dogs in the 5,000-meter race. Mehr ran with the front pack at the start of the race, but favoring his injured hip he slipped to 19th. The top ten individuals and the top two teams advanced to state.
St. Cloud Cathedral (35) defended their section title, winning easily again. Pierz (63) was second.
Sophomore Dugan Flanders was second for the Dogs, finishing eight spots higher than last year in 25th.
Sophomore Peder Thompson continued to show improvement, finishing 31st overall, up 21 spots from last year. Eighth grader Josh Sturtz was close behind Thompson in 33rd, and eighth grader Jamison Wall completed the Dogs' team score in 41st.
With no one advancing to state for the boys, the Dogs completed their 2004 cross country season.
Team Scores
1. St. Cloud Cathedral 35
2. Pierz 63
3. Rockford 95
4. Becker 97
5. Mora 114
6. Annandale 126
7. Paynesville 149
8. St. John's Prep 219
Individual Results
19. Matt Mehr 18:27
25. Dugan Flanders 18:43
31. Peder Thompson 19:09
33. Josh Sturtz 19:14
41. Jamison Wall 19:45
48. Chris Utsch 20:15
49. Nathan Friederichs 20:29
---
Contact the author at editor@paynesvillepress.com • Return to Sports
Home | Marketplace | Community
---