Midway through the decisive fifth set in their subsection quarterfinal against Eden Valley-Watkins on Friday, the Bulldogs volleyball team took a 7-4 lead and appeared poised to win the back-and-forth match. But the Eagles responded with a 11-1 run and eliminated the Dogs, winning the five-set match 3-2.

The fourth-seeded Dogs were upset by the fifth-seeded Eagles 25-14, 18-25, 25-27, 25-17, and 8-15 in the subsection quarterfinals at PAHS.

"The match was a close contest. The girls from EV-W were able to do the little things better than the Bulldogs," said coach Dawn Knoll. "They seemed to have more desire to win the match."

The Dogs had rallied from a two set to one deficit by winning the fourth set 25-17. They broke a 4-4 tie in the fifth set by scoring a point for a sideout and two more on serves, taking a 7-4 lead, appearing to have the momentum on their side.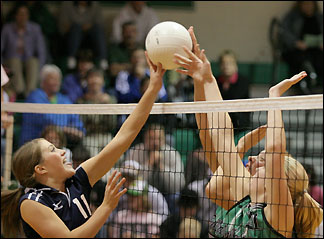 But EV-W took a timeout trailing 6-4, and while the Dogs scored a seventh point on junior Kristin Lang's block, the Eagles then proceeded to get a sideout and then scored seven straight points on the ensuing serves, taking a 12-7 lead.
Senior Shonda Martinson and junior Kristin Lang combine for a spike at the net against and EV-W opponent on Friday night. The fourth-seeded Dogs were upset by the fifth-seeded Eagles in five sets. Lang had eight kills for the Dogs, while Martinson added six.
The Dogs got a single sideout, making the score 12-8, but the Eagles answered with a sideout of their own and then scored two service points to win the set 15-8 and the match 3-2.
The Dogs had cruised to victory in the opening set, getting two service points from senior Ashley Lieser to take a 3-0 lead and five from senior Lynn Lieser to take an 8-1 lead. That lead increased to 15-4 and 18-9, with the Dogs winning 25-14, getting the last point on Lang's ace serve.
But EV-W jumped ahead early and won the second set 25-18. The Eagles built a 9-3 lead and never trailed in the second set. The Dogs did make some runs, scoring four straight points to get within 18-15. Following a sideout, Ashley Lieser had one of her four ace serves, then made a save off the net leading to junior Chelsey Kalkbrenner's kill, and Lynn Lieser followed with a kill. But EV-W then scored five straight points, building their lead to 23-15. The Dogs got three straight points on kills from senior Shonda Martinson, senior Melanie Mages, and Lang but lost 25-18.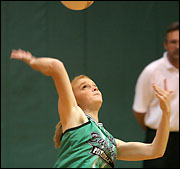 EV-W prevailed in a close third set, breaking the eighth tie at 25-25 with a sideout and a service point to win 27-25. This set had been tied at 5-5, 8-8, 9-9, 13-13, and 15-15 before EV-W went on a 5-1 run and took a 20-16 lead. Lang had a kill for a sideout to end that run, and the Dogs rallied to tie the score at 23-23. Ashley Lieser made two saves, leading to Lynn Lieser's kill for one point, and sophomore Laura Schaefer made a nice dig and Ashley Lieser another save leading to the tying point at 23-23.
Sophomore Laura Schaefer was 7 of 7 serving against EV-W on Friday and also moade 12 digs and was 10 of 11 in serve receive.
Schaefer had a kill to make the score 24-24, and the Dogs nearly took a lead on the next point but lost it despite two saves by Ashley Lieser and one off the net by Kalkbrenner. They got a sideout to tie the score at 25-25, but then EV-W scored two straight points to win.
In the fourth set, the Dogs led 13-10 before breaking the game open behind the serve of sophomore Kayla Lieser. She served eight straight points, including two ace serves, as the Dogs built a 22-10 lead. Lynn Lieser had two kills and an ace block for points during that run.
The Dogs held on for a 25-17 win in the fourth set, forcing the decisive fifth set.
For the match, the Dogs served 98 percent, missing only one serve in 90 attempts.They also received serve well (87 percent) and dug the ball well (76 percent). But, at the net, the Dogs only converted 20 percent of their hitting attempts into kills.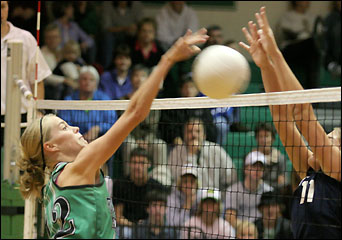 "Our serving was excellent, but we were not able to put the ball to the floor," said Knoll. "We kept giving them the opportunity to hit at us."
Lynn Lieser led the Dogs in kills (nine), blocks (six), serving (24/24), and serve receive (19/21). Lang was second with eight kills and added two blocks. Martinson had six kills and was second with five blocks.
Senior Lynn Lieser led the Dogs with nine kills and six blocks in their five-set loss to EV-W on Friday night.
Kayla Lieser was second in serving, going 21 of 21 with two aces, and was second in serve receive, going 14 of 15.
Ashley Lieser led the Dogs with four ace serves, going 17 of 17 overall, and led the team in setting. She was also 10 of 10 in digging, second to Schaefer, who was 12 of 12.
The Bulldogs ended their season with an overall record of 10-12-1. They were 6-8 in the WCC North, finishing fifth.
"A 10-12-1 season is nothing to be ashamed of as many of our matches could have gone either way with a few breaks," concluded Knoll. "We can build upon this season."
EV-W advanced to face top-seeded BBE in the subsection semifinal on Tuesday, Nov. 1.
| | | | | | |
| --- | --- | --- | --- | --- | --- |
| EV-W-- | 14 | 25 | 27 | 17 | 15 |
| Paynesville-- | 25 | 18 | 25 | 25 | 8 |
Individual Statistics
Hitting: Lynn Lieser 28/32 - 9A; Kristin Lang 25/32 - 8A; Shonda Martinson 23/31 - 6A; Melanie Mages 15/25 - 4A; Laura Schaefer 8/11 - 1A; Chelsey Kalkbrenner 8/12 - 3A; Team 116/153 - 31A;
Serving: Lynn Lieser 24/24 - 1A; Kayla Lieser 21/21 - 2A; Ashley Lieser 17/17 - 4A; Lang 7/7 - 1A; Schaefer 7/7; Mages 5/5; Martinson 5/5; Kristin Nietfeld 2/2 - 1A; Team 89/90 - 9A;
Serve Receiving: Lynn Lieser 19/21; Kayla Lieser 14/15; Mages 14/16; Amanda Skalicky 14/16; Schaefer 10/11; Team 94/108;
Blocks: Lynn Lieser (3 solo, 3 assists); Martinson (1 solo, 4 assists); Lang (1 solo, 1 assist);
Assists: Ashley Lieser 119/122 - 28A; Kalkbrenner 2/2 - 2A; Team 134/137 - 30A;
Digs: Schaefer 12/12; Lynn Lieser 12/15; Ashley Lieser 10/10; Kayla Lieser 8/10; Team 68/86.
---
Contact the author at editor@paynesvillepress.com • Return to Sports
Home | Marketplace | Community
---