Ninth grader Linda Keller and sophomore Kaitlyn Frenchick earned individual berths to state in cross country last week by placing in the top ten at the Section 5A meet.

Keller, in her first year in cross country, finished fourth in the section race at Pierz on Thursday, while Frenchick ran seventh. The top two teams and top ten individuals qualified for state.

The state cross country meet will be held on Saturday, Nov. 5, at St. Olaf College in Northfield. The Class AA races will be held in the morning, starting at 10 a.m., with the Class A races in the afternoon. The Class A boys will run at 1 p.m., with Keller and Frenchick running in the Class A girls race at 2 p.m.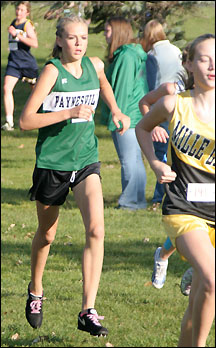 Keller, the daughter of Debbie and Victor Keller, ran with senior Libby Zupanc, an All State runner from St. Cloud Cathedral, for much of the race. Keller, Zupanc, and Emily Davis of Litchfield sprinted down the homestretch, battling for second, with Zupanc taking second, Davis third, and Keller fourth. Less than a second separated this trio of runners.
Sophomore Kaitlyn Frenchick improved her section finish from tenth last year to seventh this year. She qualified for state for the second straight year.
Keller, who beat Zupanc at the conference meet earlier in October, will make her first appearance at the state meet on Saturday. In her first season, she has finished in the top ten in all nine of her races, in the top five in eight of nine, and in the top three six times.
Frenchick earned a state berth for the second straight year. Last year, she took tenth at the Section 5A meet to grab the last individual state berth, passing a runner at the wire to take tenth. This year, she was in seventh entering the homestretch, challenged Pierz's Jamie Tallberg, who would finish fifth, and finished seventh, two seconds behind Tallberg and one second behind Mary Virnig of Mille Lacs.
Frenchick, the daughter of George and Lynda Frenchick, will make her third state appearance in cross country, finishing 67th last year as an individual and 117th as a seventh grader in 2002, running with the Dogs team. Frenchick also has qualified for state as part of a relay in track in 2005 and has participated in state true team track the past two springs.
"We are thrilled for Linda and Kaitlyn and their state-bound performances," said coach Darrel Carstens. "They should do well at state."
The Bulldogs finished a disappointing eighth at sections. "We as a team did not run that well, but we had some great individual performances," said Carstens. "We felt the girls were good enough for state, but we need to attack the summer a little better."
St. Cloud Cathedral (88) won the section title, edging Mille Lacs (91) and Pierz (92). Mille Lacs also qualified for state as a team, narrowly beating Pierz, as well as Annandale (97) and Litchfield (97).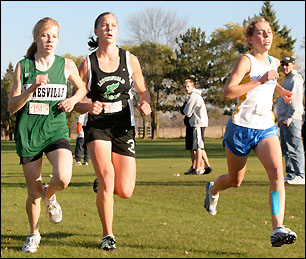 Ninth grader Kally Felling (45th), seventh grader Katie Weidner (47th), and senior Sheena Hoekstra (51st) completed the Bulldogs' team score at sections.
Junior Kacy Nehowig, an individual state qualifer the past three years in cross country and All State runner twice, struggled with a hip injury at the section meet. Laboring throughout the race, she finished 55th, instead of her normal spot running near Frenchick.
Ninth grader Linda Keller sprinted down the stretch before finishing fourth at the Section 5A meet at Pierz on Thursday. Keller, in her first year of cross country, qualified for state individually and will run at state on Saturday.
Despite her injury, she did finish the race. "That's heart," said one spectator as she ran down the homestretch.
Junior Kirsten Miller (56th) finished behind Nehowig for the Dogs.
With Nehowig's injury, the Dogs (142) were beaten by EV-W/Kimball (130) and Albany (139), teams that the Dogs had beaten consistently previously this season. The Dogs had beaten EV-W/Kimball four times this season and Albany twice. They also had beaten Pierz, which narrowly missed a team berth, all three times they faced them previously this fall, as well as state-bound Mille Lacs in their only previous common meet.
Had Nehowig finished in the top ten, 40 points would have been shaved from the Dogs' team score, putting them in the mix at sections.
The Dogs, however, lost to Cathedral in all three contests this fall, as well as finishing behind Annandale all three times. The Dogs beat Litchfield once but lost to the Dragons three times as well.
Keller and Frenchick will run at state on Saturday, Nov. 5, at 2 p.m.
Team Scores
1. St. Cloud Cathedral 88
2. Mille Lacs 91
3. Pierz 92
4. Annandale 97
5. Litchfield 97
6. Eden Valley-Watkins/Kimball 130
7. Albany 139
8. Paynesville 142
Individual Results
4. Linda Keller 15:48
7. Kaitlyn Frenchick 16:02
45. Kally Felling 18:58
47. Katie Weidner 19:04
51. Sheena Hoekstra 19:21
55. Kacy Nehowig 20:24
56. Kirsten Miller 20:51
---
Contact the author at editor@paynesvillepress.com • Return to Sports
Home | Marketplace | Community
---