The Holdingford Huskers, ranked tenth in Class AA in the state, scored on five straight first-half possessions and beat the Bulldogs 46-0 in the Section 5AA football playoffs on Tuesday, Oct. 25.

The Huskers were seeded second in Section 5AA after going 7-1 in the regular season, with their only loss coming to defending Class AA champ and top-ranked Pierz. The Huskers beat the Bulldogs 39-6 in their season opener in September.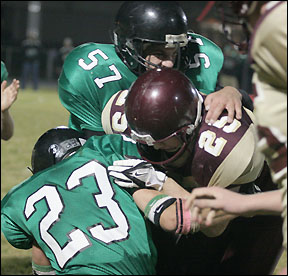 The two teams traded punts to start the game last week, but when the Dogs punted a second time, the Huskers were quick to capitalize. They scored the game's opening touchdown on a 40-yard pass play on their first play from scrimmage on their second possession.
Junior Matt Hansen (23) - shown making a tackle against Benson with junior Sam Bayer (57) - led the Dogs with 41 rushing yards last week.
After that, the Huskers scored on four consecutive possessions to end the first half. They hit another long pass (47 yards) to start their third possession, after a Bulldog fumble, and scored their second touchdown on the first play of the second quarter.
Then they blocked a Bulldog punt and scored on an 12-yard run on the next play. They got the ball around midfield for their next two possessions and scored touchdowns both times, making the score 34-0 at the half.
The Huskers, who outgained the Bulldogs 376 yards to 172, scored on another long pass in the third quarter and got a seventh touchdown from their reserves in the fourth quarter to make the final score 46-0.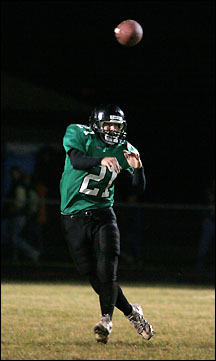 The Dogs gained four first downs in the first quarter, three through the air. On their best drive of the first half, senior quarterback Jamie Paul hit sophomore Alex Svejkovsky for 20 yards and a first down on a third-down play and then hit junior Randy Leyendecker for eight yards again on third down for another first down. That drive, though, ended with a fumble.
Senior quarterback Jamie Paul concluded his three-year varsity career by completing 6 of 14 passes against Holdingford last week.
In the second half, Paul hit Svejkovsky for 20 yards again for a first down, but this drive ended with an interception early in the fourth quarter.
The Dogs' second-string offense gained 59 yards and three first downs in the fourth quarter before turning the ball over on downs.
The Dogs ended their season with a record of 1-8. Their lone win came against Morris (21-14) in September.
| | | | | | |
| --- | --- | --- | --- | --- | --- |
| Paynesville-- | 0 | 0 | 0 | 0 | -- 0 |
| Holdingford-- | 7 | 27 | 6 | 6 | -- 46 |
Scoring Summary
First Quarter
Hold-Andrew Bernstetter 40 pass from Max Posch (Tyler Volkers kick);
Second Quarter
Hold-Bernstetter 8 pass from Posch (kick failed);
Hold-Eric Leahy 12 run (Volkers kick);
Hold-Leahy 1 run (Volkers kick);
Hold-Calvin Becker 1 run (Volkers kick);
Third Quarter
Hold-Bernstetter 43 pass from Posch (Volkers kick);
Fourth Quarter
Hold-Jeremiah Skudlarek 7 run (Volkers kick).
Individual Statistics
Rushing (attempts-yards-TDs): Matt Hansen 7-41; Brett Savelkoul 5-36; Aaron Burris 6-13; Randy Leyendecker 8-3; Greg Price 1-2; Jeff Albright 1-2; Jamie Paul 3-(-7);
Passing (completions-attempts-yards-INTs): Paul 6-14-76-1;
Receiving (receptions-yards): Alex Svejkovsky 2-40; Alex Naujokas 2-23; Leyendecker 1-8; Hansen 1-5;
Punting: Burris 5-167-33.4;
Kickoffs: Sam Bayer 1-40;
Kickoff Returns: Hansen 3-60; Savelkoul 4-45; Naujokas 1-10.
---
Contact the author at editor@paynesvillepress.com • Return to Sports
Home | Marketplace | Community
---