Sophomore Linda Keller ran away from the field at the Section 5A cross country meet at Pierz on Thursday, winning her first section title and helping the Dogs finish third.

The Dogs, as a team, missed a state berth by four points, being edged by Albany 98-102 for the second state berth from Section 5A. Mora (76) won the section title.

Eleven points separated fifth place from second place - Albany (98), Paynesville (102), Mille Lacs (103), and St. Cloud Cathedral (109). The race was so close that none of the teams knew who was second until the official results were released at the Pierz Golf Course.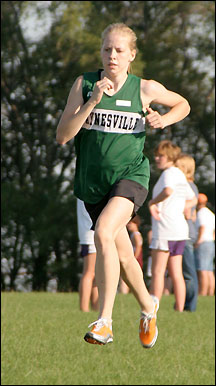 Keller, who finished fourth at sections last year on her way to earning All State honors, won the Section 5A race by 42 seconds, finishing the four-kilometer course in 15:03.78. This was 45 seconds faster than her time at sections last year and nearly 25 seconds better than her time at state.
Sophomore Linda Keller won the Section 5A race at Pierz on Thursday by nearly 45 seconds, advancing to state for the second year in a row and winning the first individual section cross country title for the Bulldogs since Jen Hess won the last of her three titles in 2001. She runs at state at St. Olaf College in Northfield on Saturday at 11 a.m.
She won the first individual section title for the girls' cross country team since Jen Hess won the last of her three straight section titles in 2001.
Keller will run at state at St. Olaf College in Northfield on Saturday. The Class A girls' race is scheduled for 11 a.m. with the awards ceremony following 30 minutes later.
"Linda was awesome," said coach Darrel Carstens. "She is in an elite group in the state and should do well next Saturday."
Junior Kaitlyn Frenchick finished 13th for the Dogs, missing a return trip to state as an individual by three places. Senior Kacy Nehowig ended her cross country career by running 17th.
Sophomore Bri Jaeger (31st), in her first cross country season, and senior Tanis Beireis (40th), running despite an illness, completed the Dogs' team score.
Junior Melanie Koerner (83rd) and senior Kirsten Miller (86th) filled out the Dogs' section lineup.
"This has been a great year with great student athletes," said Cartens, who is expected to retire from teaching and coaching after this season. "We ran a good race at sections but not a great race. But in high school athletics, there is more, and that is the quality of kids one gets to coach. This is a quality group!"
Albany placed two runners in the top 10 and another in the top 15 to take a three-point lead on the Dogs. The Huskies' fourth and fifth runners gained another point advantage on the Dogs, ending four points ahead to earn their third state trip in cross country (and their first since 1999).
The Dogs were hoping to make their first state trip since 2002 and fourth overall. Their three previous state team trips were 1991 (12th), 2001 (second), and 2002 (ninth).
In five head-to-head races this year, Albany beat the Bulldogs four times. They had edged the Dogs for third at the Albany meet in October and for fourth at the WCC North Meet also in October, though the Dogs had not had their full lineup in either of these two races.
The Dogs had not beaten Albany since winning the BBE Invite in September, one of their three team titles this fall.
Team Scores
1. Mora 76
2. Albany 98
3. Paynesville 102
4. Mille Lacs 103
5. St. Cloud Cathedral 109
6. Litchfield 122
7. Eden Valley-Watkins/Kimball 138
8. Annandale 166
9. Pierz 227
10. Maple Lake 258
11. Rockford 323
12. Howard Lake-Waverly-Winsted 358
13. Royalton 366
14. Milaca 380
ACGC Inc.
Foley Inc.
Lester Prairie-Holy Trinity Inc.
Individual Results
1. Linda Keller 15:04
13. Kaitlyn Frenchick 16:21
17. Kacy Nehowig 16:29
31. Bri Jaeger 16:50
40. Tanis Beireis 17:04
83. Melanie Koerner 19:12
86. Kirsten Miller 19:26
---
Contact the author at editor@paynesvillepress.com • Return to Sports
Home | Marketplace | Community
---