The Bulldogs boys' cross country team ended their 2006 season on Thursday by running tenth at the Section 5A meet at Pierz.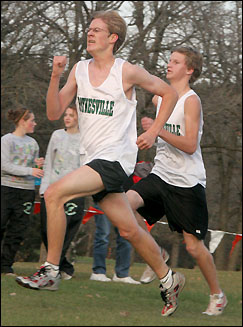 The top two teams and top ten individuals advance to state. Defending state champs St. Cloud Cathedral (61) won the section title again followed by Mora (85). Annadale (117) placed third with Albany (121) fourth.
Senior Peder Thompson and ninth grader Kohl Nehowig sprinted to the finish line in the Section 5A cross country meet at Pierz on Thursday. Nehowig placed 63rd in 19:21, and Thompson finished one second back.
Senior Dugan Flanders, who ran in the top ten early in the race before falling back, led the Dogs by placing 23rd overall. He improved his section finish by seven places from last year (when he was 30th) and cut his time by 40 seconds.
Eighth grader Tanner Wendroth was next for the Dogs in 28th, finishing seven seconds behind Flanders. He improved his section placing by 20 spots this year and cut his section time at the Pierz Golf Course by nearly 90 seconds.
He was the top eighth-grade finisher in the Section 5A meet. The section champ, however, was a ninth grader from Annandale, and Albany had two ninth graders place in the top 20 and two eighth graders place in the top 40. Of their top six runners in placing fourth at sections, five are ninth graders or younger.
Sophomore Ezra Thompson (54th) was the third runner for the Dogs, with sophomore Josh Sturtz (58th) finishing five seconds behind him. Ninth grader Kohl Nehowig (63rd) outsprinted senior Peder Thompson (64th) to be Paynesville's fifth runner.
Eighth grader Trevor Spanier (76th) completed the Dogs' lineup at sections.
The Dogs had placed seventh at the section meet for the past three years, but with the dropping of the subsection race and with a larger field (16 teams) for the section race, they fell to tenth this year.
Team Scores
1. St. Cloud Cathedral 61
2. Mora 85
3. Annandale 117
4. Albany 121
5. Howard Lake-Waverly-Winsted 140
6. St. John's Prep 179
7. Milaca 194
8. Litchfield 195
9. Pierz 220
10. Paynesville 226
11. Rockford 253
12. Royalton 278
13. Foley 378
14. Maple Lake 406
15. Lester Prairie/Holy Trinity 411
16. ACGC 428
Individual Results
23. Dugan Flanders 17:59
28. Tanner Wendroth 18:06
54. Ezra Thompson 19:02
58. Josh Sturtz 19:07
63. Kohl Nehowig 19:21
64. Peder Thompson 19:22
76. Trevor Spanier 20:11
---
Contact the author at editor@paynesvillepress.com • Return to Sports
Home | Marketplace | Community
---