Hess, Schmitz qualify for state meet
This article submitted by Ryan Flanders on 11/1/00.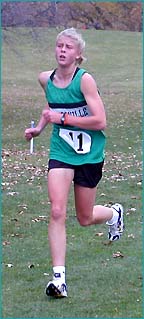 The Paynesville girls' cross country team came out of last Thursday's fierce section meet with three top ten medalists: Jenny Hess, Brooke Schmitz, and Kim Hess. The team as a whole also ran well, finishing fifth in the section and advancing their top two runners to state competition.

"I was really pleased with both teams," said Coach Carstens.

Jenny Hess (pictured at left) harnessed the feeling of tension in the air and raced to a convincing section victory, leaving the second place runner behind by nearly half a minute. She wasted no time establishing her position, taking the lead in the opening meters of the race and maintaining command over the field for the duration of the race. She has proven her infallibility in all ten meets she's run throughout the season, and is favored in this Saturday's up and coming state meet.

Brooke Schmitz (pictured ar right) also advanced to state through her fight for sixth place. Brooke showed a good kick at the end of her determined race, running with the front pack of the race all the way to the chute and holding off a runner to finish with a time of 15:56.

"I'm glad that Brooke made it to state," said captain Jenny Hess. "Brooke works hard and deserves to go.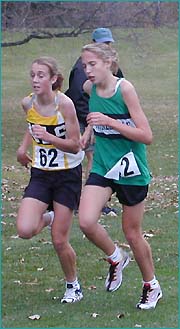 Only eight other runners in the unparalleled competition of Section 6A can claim to be able to run with Kim Hess. Gaining strength throughout the race, Kim ran her way to an impressive ninth place finish, merely two spots from a ticket to the state meet. The challenging course passed beneath her fleeting step in 16:17.
The smiling face of Bridget Johnson could be spotted in 47th place amidst the section's top competitors. Her finish contributed to the respectable team standing.
"I think our team did real well. A fifth place finish is good for a section like this," said Jen Hess.
Trisha Wendlandt ran a consistent race, finishing as the team's fifth runner in 47th. Mesa Frenchick followed in 52nd with a time of 20:53.
Senior captain Mellody Veldkamp ran a steady race, finishing 54th against the toughest competition all season long.
Jenny Hess and Brooke Schmitz will be competing in the Minnesota State Cross Country meet at St. Olaf College in Northfield Saturday, Nov. 4. The Class A girls will run at 10 a.m.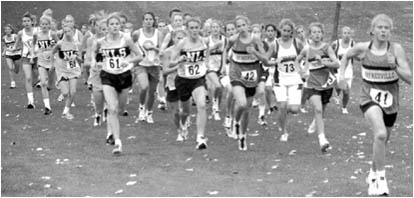 The excitement of the day can only be completely felt through experiencing it in person, so come and enjoy cheering on the Lady Bulldogs!
Jenny Hess led the pack of runners at the start of the section meet and never reliquished the lead.
Team standings
1. New London-Spicer -33
2. Sauk Centre -83
3. Staples-Motley -89
4. Wadena-Deer Creek -105
5. Paynesville -117
6. Minnewaska Area -151
7. Montevideo -176
8. Crosby-Ironton -191
Individual results
1. Jenny Hess -15:20
6. Brooke Schmitz -15:56
9. Kim Hess -16:17
39. Bridget Johnson -18:28
47. Trisha Wendlandt -19:24
52. Mesa Frenchick -20:53
54. Mellody Veldkamp -22:19

---