The Bulldogs just missed a third straight trip to the state cross country meet, finishing third at the Section 5A meet at Becker last week, but Paynesville will be represented at the state meet.

While the team missed a top two finish by nine points, ninth graders Kacy Nehowig and Tanis Beireis qualified individually for state by placing third and sixth individually.

"It was a great girls race with Kacy and Tanis qualifying for state," said coach Darrel Carstens. "They have worked very hard and we are very proud of their accomplishments."

Nehowig finished third at sections, her same placing as a year ago. Two runners from St. Cloud Cathedral, which won the team title this year after being beaten by the Bulldogs the past two years, finished first and second.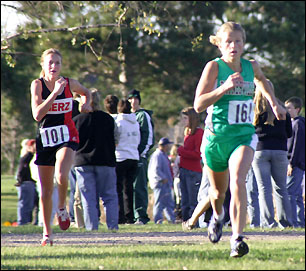 "I was going for second, but Cathedral('s Libby Zupanc) got too far ahead," said Nehowig, who earned All State honors last year by finishing 18th at the state meet. "I can't let her get too far ahead."
Beireis improved from 15th at the section meet last year to sixth this year (fifth for team scoring, which does not count individual runners).
Ninth grader Kacy Nehowig beat Jamie Tollberg of Pierz down the homestretch at the Pebble Creek Golf Course in Becker on Thursday for the Section 5A cross country meet. Nehowig took third in the section and qualified for state as an individual for the second straight year.
"I'm in shock," said Beireis. "It still hasn't hit me yet. Last year, I wasn't even close to going."
Beireis said she had to make it to state, too, in order to keep Nehowig company and calm before the race. While Nehowig gets nervous before running, Beireis is unworried.
Both have run at state the past two years, as the Bulldogs have competed at state as a team. Before their seventh grade year, Beireis said she was reading a book until minutes before the race.
This year, the state cross country meet will be held at St. Olaf College in Northfield on Saturday, Nov. 1. Beireis and Nehowig (pictured below) will run in the Class A girls' race at 2 p.m.
The rest of the schedule is Class AA boys at 10 a.m., Class AA girls at 11 a.m., and Class A boys at 1 p.m.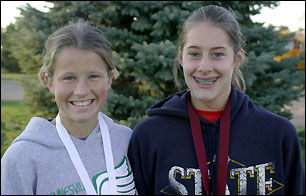 Eighth grader Kaitlyn Frenchick just missed qualifying for state, finishing 12th overall (ninth in the team scoring). The top ten individuals qualified for state, leaving Frenchick a mere two places from a state berth.
At subsections, where she ran her best race and took fifth, and at sections, Frenchick tried to run with Beireis or at least keep her in sight. She said she let Beireis get too far ahead of her at sections, but she still improved from 30th at sections last year to 12th this year.
"Kaitlyn just missed qualifying, and she has definitely been the most improved runner possible," said Carstens. "The entire team put us in the hunt for our third straight state meet, and we almost made it!"
Seventh grader Rheanne Zimmerman finished 29th (in team scoring), and ninth grader Krista Wendroth was 34th to complete the Bulldogs' team score. Rockford, which beat the Bulldogs for the subsection title, edged the Dogs by nine points (71-80) for second place.
Eighth grader Melanie Koerner was 40th for Paynesville, and seventh grader Shanna Hoekstra was 44th.
"This was a great year for the girls' program with an awesome positive group. They were always happy and enjoying life on their runs," said Carstens. "It was fun!"
Team Scores
1. St. Cloud Cathedral 40
2. Rockford 71
3. Paynesville 80
4. Becker 109
5. Annandale 126
6. Albany 141
7. Maple Lake 153
8. Mora 180
Individual Results
3. Kacy Nehowig 15:25
5. Tanis Beireis 15:42
9. Kaitlyn Frenchick 16:11
29. Rheanne Zimmerman 17:27
34. Krista Wendroth 17:54
40. Melanie Koerner 18:14
44. Shanna Hoekstra 18:36
---
Contact the author at editor@paynesvillepress.com • Return to Sports
Home | Marketplace | Community
---