The Paynesville Bulldog football team put a scare into the state-rated Holdingford Huskers in the first round of the subsection playoffs on Tuesday, Oct. 21, but the Huskers ultimately ended the Dogs' season with a 30-14 victory.

The Bulldogs, seeded seventh in Section 5AA, outplayed the host Huskers, seeded second, for most of the first quarter. The Dogs punted after an opening three-and-out possession, but forced a fumble on the Huskers second play from scrimmage, gaining momentum.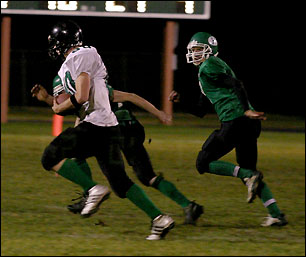 Even when the Dogs fumbled the ball back to the Huskers while otherwise converting on a fourth-and-short play in Holdingford territory, Paynesville kept the momentum, twice forcing the Huskers to punt in the first quarter.
Ninth grader Randy Leyendecker gave the Bulldogs their best chance to score in the first quarter, returning the Huskers' second punt 40 yards, setting up the Bulldogs deep in the Huskers' territory. But on fourth-and-long, Leyendecker stretched but was unable to grab sophomore quarterback Jamie Paul's pass. A catch would have given the Dogs a first-and-goal if not a touchdown.
Senior Jordan Haag (80) eludes two Holdingford defenders after catching a pass and rambles downfield for a 51-yard gain, setting up the Bulldogs' second touchdown in their 30-14 subsection loss to the Huskers.
After Paynesville's near miss, Holdingford's offense found its rhythm, scoring on its next three possessions. Taking over on downs, the Huskers drove 65 yards in eight plays to score the game's first points with nine minutes left in the second quarter on a 24-yard touchdown run by senior Dan Muehlbauer, who rushed for 170 yards and three scores. His first touchdown run came immediately after the Huskers completed a 14-yard pass on fourth-and-nine.
The Bulldogs punted back to Holdingford, who converted on third-and-seven from near midfield when junior fullback John Marstein caught a pass in the flat and ran up the sideline for a 55-yard touchdown catch. In a three-minute span, Holdingford scored 14 points.
Holdingford got an interception on the Dogs' next possession and turned that into three more points, putting their lead at 17-0, driving 35 yards in eight plays and kicking a 27-yard field goal.
Holdingford opened the second half with a drive deep into the Dogs' territory. A penalty called back a Husker touchdown, and Paynesville forced them to turn the ball over on downs.
The Bulldogs took their only possession in the third quarter and drove the length of the field for their first touchdown. The Dogs drove 94 yards in 11 plays, with Leyendecker rushing seven times for 60 yards and Paul completing his only two passes, including a 12-yard touchdown to senior Jordan Haag.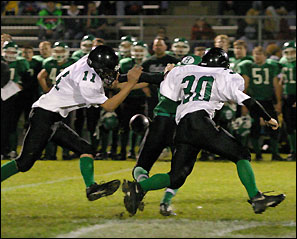 Their lead cut to 17-6, Holdingford answered again, driving 68 yards on five rushing plays and scoring on the first play of the fourth quarter as Muehlbauer rambled into the endzone from 22 yards out.
Paynesville's offense drove into Holdingford territory again, picking up a couple first downs before turning the ball over on downs. But the Bulldogs' defense recovered another fumble, giving the offense another chance.
Sophmore Sean Glenz (11) and junior Eric Hansen (30) converge on Holdingford's quarterback for a first-half sack in the Dogs' playoff loss.
Paul hit Haag with a long pass on the Bulldogs' first play from scrimmage, and Haag ran to the Huskers' 22-yard-line with a 51-yard reception. Leyendecker scored the Dogs' second touchdown two plays later on a 12-yard run, and Paul hit junior fullback Mike Mueller for the two-point conversion, cutting Holdingford's lead to ten, at 24-14, with five minutes to play.
Paynesville attempted and recovered the onside kick, but the referees ruled that the kick did not go ten yards and was not touched by a Holdingford player. The play happened right in front of the Bulldogs' bench, and Paynesville's coaches were adamant that the kick had hit the hand of a Holdingford player. In protesting the call, Paynesville got two unsports-manlike penalties - one on a player and another on head coach Kyle Nehowig - giving the Huskers the ball on Paynesville's 15-yard line.
The Huskers scored their final touchdown eight plays later, twice converting on fourth down.
Paynesville had one more offensive series, but Holdingford intercepted the ball on the first play.
Paynesville finished the season winless in nine games.
Holdingford suffered their first loss of the season Eden Valley-Watkins on Saturday in the section semifinals. Third-seeded EV-W will advance to the section final this Friday against state-rated Norwood Young America.
| | | | | | |
| --- | --- | --- | --- | --- | --- |
| Paynesville-- | 0 | 0 | 6 | 8 | -- 14 |
| Holdingford-- | 0 | 17 | 0 | 13 | -- 30 |
Scoring Summary
First Quarter
No scoring.
Second Quarter
Hold-Dan Muehlbauer 24 run (Josh Borash kick);
Hold-John Marstein 55 pass from Eric Waletzko (Borash kick);
Hold-Borash 27 field goal;
Third Quarter
Pay-Jordan Haag 12 pass from Jamie Paul (pass failed);
Fourth Quarter
Hold-Muehlbauer 22 run (Borash kick);
Pay-Randy Leyendecker 12 run (Mike Mueller pass from Paul);
Hold-Muehlbauer 1 run (kick blocked).
Individual Statistics
Rushing (attempts-yards-TDs): Randy Leyendecker 20-108-1; Mike Mueller 9-27; Matt Hanson 7-18; Jamie Paul 1-(-11);
Passing (completions-attempts-yards-TDs-INTs): Paul 7-15-114-1-2; Sean Glenz 0-1-0-0-0;
Receiving (receptions-yards-TDs): Jordan Haag 2-63-1; Leyendecker 2-30; Mueller 3-21;
Kickoff returns: Leyendecker 2-43; Mueller 4-52;
Kickoffs: Justin Butkofski 2-85;
Punt returns: Leyendecker 2-42;
Punts: Butkofski 3-60.
---
Contact the author at editor@paynesvillepress.com • Return to Sports
Home | Marketplace | Community
---