Paynesville's boys' cross country team finished their season on Thursday in Becker by taking seventh in Section 5A.

The Bulldogs finished second at subsections but beat only one team at the section race, held at the Pebble Creek Golf Course in Becker.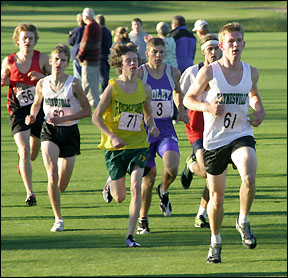 "The boys ran their super race at the subsections and did not have a good section meet," said coach Darrel Carstens. "We ran so hard at subsections to take the trophy that we put it all on the line for that meet and seemed to fall off the pace from that effort."
Junior Matt Mehr and senior Chad Wyffels led the Bulldogs, finishing 20th and 22nd in the team scoring (which does not include runners who qualified for sections as individuals). Both flirted with top-ten individual finishes that would have landed them state berths as individuals. Wyffels was in the top ten for the first lap on the 5,000-meter course at Becker, and Mehr was still 11th overall starting the third and final lap, but fell back.
Senior Chad Wyffels (front) and junior Matt Mehr (left) were the top two runners last week for the boys' team at sections. Mehr finished 20th inthe team scoring, and Wyffels finished 22nd. The Bulldogs boys' team took seventh at the Section 5A meet at Becker on Thursday, Oct. 23.
Ninth grader Dugan Flanders finished 33rd in the team scoring, junior Jason Wendroth finished 37th, and junior Chris Utsch finished 43rd to complete the Dogs' team score.
Ninth grader Peder Thompson was 52nd, and junior Todd Thielen was 53rd.
St. Cloud Cathedral placed three runners in the top six and won the section title with a team score of 33. Annandale, who beat the Bulldogs for the east subsection title (Cathedral is in the west half), took second as a team and also will advance to state.
Carstens was pleased with his team's performance this fall. "The guys ran hard and became a much better team throughout the season. They had a great effort at most meets and kept a great attitude," he said.
"It was a great season; with only one senior, we will have a great future with a big group of young runners coming up in the next years," added Carstens.
The season is complete for the Paynesville boys' team.
Team Scores
1. St. Cloud Cathedral 33
2. Annandale 70
3. Albany 101
4. Mora 102
5. Pierz 125
6. Rockford 137
7. Paynesville 156
8. St. John's Prep 185
Individual Results
20. Matt Mehr 18:09
22. Chad Wyffels 18:17
33. Dugan Flanders 18:46
37. Jason Wendroth 19:00
43. Chris Utsch 19:36
52. Peder Thompson 20:26
53. Todd Thielen 21:56
---
Contact the author at editor@paynesvillepress.com • Return to Sports
Home | Marketplace | Community
---