Girls advance to sections in cross-country
This article submitted by Erin Aagesen on 10/27/99.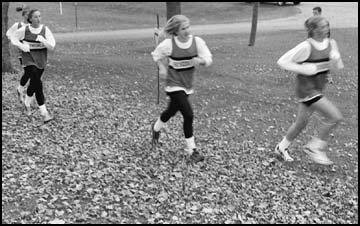 Jen Hess won the subsection meet and led the Dogs to a third place finish as a team last Tuesday, Oct. 19. Hess finished her race in 14:34, 37 seconds ahead of the second place finisher, Tia Nowaki of NL-S.

As a top five finisher, Hess will advance individually to the section meet, but the team's finish will advance the entire squad to the section meet. The top four teams in the subsection advanced.

The team's success was due largely to pack running by the team members. At right in the picture is Danielle Lieser, followed by Erin Aagesen, Carin Frenchick, and Tiff Rausch.

Kim Hess, the team's second runner, was not able to run due to a fractured foot. To make up for lost points, the girls ran together for much of the race.

Erin Aagesen finished in 14th place with a 16:47. Next, in 17th, was Danielle Lieser. She clocked in at 16:51.

Carin Frenchick and Tiff Rausch once again finished together. Frenchick placed 23rd and Rausch placed 24th. Their times were 17:10 and 17:18 respectively.

Mesa Frenchick crossed the finish line in 32nd place. Her time was 18:05. "I think we all ran really well," she said. "It was a fun meet."

Mel Veldkamp joined the varsity squad in place of Kim Hess. Veldkamp added a 42nd place in 19:49.

The meet took place in Morris, on a cool and slightly windy day. "That is the last time I have to run that hill!" said a laughing Tiff Rausch, who is a senior, of the large incline that opens the course.

The girls will run tomorrow at the section meet at the Little Crow Country Club outside of New London. The girls will run starting at 4 p.m. The top five girls individually and the top two teams at this meet will advance to the state meet on Saturday, Nov. 6, in Northfield.

Varsity team standings
1. Morris-Hancock - 33
2. NLS -57
3. Paynesville -79
4. Minnewaska -83
5. Montevideo -116
6. Ortonville -174
7. BBE -184
8. MACCRAY -Inc.
---