Montevideo edges Paynesville
by seven points for the subsection title
This article submitted by Ryan Flanders on 10/27/99.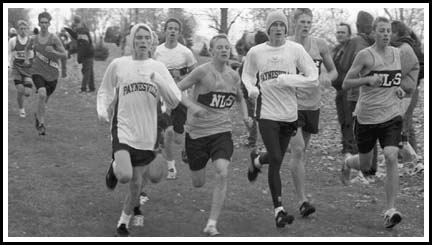 The Bulldogs came up seven points short of a victory at their sub-section meet, which took place at Morris on Tuesday, Oct. 19. The Bulldogs were edged by Montevideo, a team that is also ranked in state.

Clayton Lang was a challenging competitor of the spread-out front pack. His persistence earned him a fourth place finish and a time under 17 minutes, which is very respectable for Morris' strenuous course.

Leading the main pack of runners was Adam Utsch, who finished in sixth place with a time of 17:37. Adam can always be counted on to push himself every race. Paynesville's third runner was Luc Trees. He slipped a notch from his recent impressive performances, but nonetheless secured the team a 12th place finish.

The next Bulldog to cross the finish line was Dan Pearson. Dan's effort gave him a 15th place finish and a time of 18:23. Paynesville's fifth runner was Ryan Flanders, who finished in 17th place with a time of 18:32.

In four more seconds Eric Korman crossed the line, placing sixth for the team and 18th overall. Riley Flanders ran a strong race with an impressive finish. He finished 19th in 18:32.

"I believe we ran physically strong, but if we wish to advance further in the post season we need to run stronger mentally," said coach Darrel Carstens.

The intensity has been building all season long for tomorrow's section meet at the Little Crow Country Club between New London and Spicer. The top two team finishers will advance to state competition. Three-time defending state champion Staples-Motley is a clear favorite to secure one of those spots. The Bulldogs will battle Montevideo, Crosby-Ironton, and Morris for the second spot at state. The boys' race is scheduled to start at 4:30 p.m.

Come and witness the action!

Varsity team standings
1. Montevideo: 47
2. Paynesville: 54
3. Morris: 56
4. New London-Spicer: 87
5. Ortonville: 121
6. MACCRAY: 166
7. BBE: Inc.
8. Minnewaska: Inc.
---