Sophomore Linda Keller won her first conference cross country title, and senior Kacy Nehowig set a new school record by earning All Conference honors in cross country six times on Tuesday in Albany.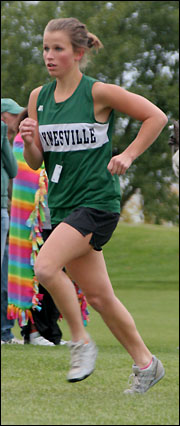 Keller, an All State runner last year, won the West Central Conference North race by 25 seconds to earn All Conference for the second straight year. Keller finished second at the conference meet last year and became the first PAHS conference cross country champion since Jen Hess in 2001.
Senior Kacy Nehowig set a new school record last week by earning All Conference honors in cross country for a sixth time, finishing 11th at the WCCN meet at Albany.
Nehowig placed 11th to earn All Conference honors for the sixth straight year. She was tied with Hess after earning All Conference honors for the fifth time last year. (Hess did not run cross country in seventh grade but earned con-ference honors the next five years.)
Senior Tanis Beireis (20th) and junior Kaitlyn Frenchick (21st) narrowly missed finishing in the top 14 - and thus earning All Conference honors - by 17 seconds and 19 seconds respectively.
Senior Kirsten Miller (40th) completed the Dogs' team score, followed one second later by junior Melanie Koerner (41st).
The Dogs ran without sophomore Bri Jaeger at the conference meet.
New London-Spicer (78) edged Minnewaska (80), St. Cloud Cathedral (82), and Albany (86) for the conference title, with the Dogs (93) in fifth.
"The girls ran fair, but will need to pick it up to reach the goals we have for the year," said coach Darrel Carstens. "It was awesome to see Kacy get her sixth All Conference award in her career and to see Linda be the conference champion. We are looking forward to a great section meet."
The Bulldogs will run in the Section 5A meet at the golf course in Pierz on Thursday, Oct. 26, starting at 4:30 p.m.
This year, no subsection meets were held, so the Dogs will run against 18 other schools at the section meet with the top two teams and top ten individuals qualifying for state. Keller and Frenchick qualified for state individually last year, while the girls last qualified for state as a team in 2002.
Team Scores
1. New London-Spicer 78
2. Minnewaska 80
3. St. Cloud Cathedral 82
4. Albany 86
5. Paynesville 93
6. Sauk Centre 113
7. LPGE 149
Individual Results
1. Linda Keller 15:54
11. Kacy Nehowig 16:56
20. Tanis Beireis 17:22
21. Kaitlyn Frenchick 17:24
40. Kirsten Miller 20:04
41. Melanie Koerner 20:05
---
Contact the author at editor@paynesvillepress.com • Return to Sports
Home | Marketplace | Community
---