Senior Randy Leyendecker scored the go-ahead touchdown on an eight-yard fourth-quarter run and then preserved the victory with a fourth-down sack to end Benson's final drive as the Bulldogs rallied to beat Benson 18-13 last week.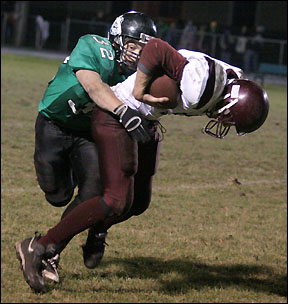 The victory - on Wednesday, Oct. 18 - ended two year's of fourth-quarter miracles for Benson against the Dogs. In 2004, Benson scored the winning touchdown on a fourth-quarter desperation heave, winning 22-19, and in 2005 Benson scored the winning touchdown on a 55-yard pass in the final two minutes, capping an 85-yard, three-play drive and winning 21-14.
Senior Randy Leyendecker - playing halfback on offense and nose tackle on defense - scored two touchdowns for the Dogs, including the go-ahead score in the fourth quarter, and sacked Benson's quarterback four times, including a drive-ending fourth-down sack on their last possessions.
With the Dogs clinging to an 18-13 lead, Leyendecker collected his fourth sack of the game - and the team's tenth - to turn the ball over on downs deep in Benson territory. The Dogs ran seven straight running plays, collecting two first downs, to run out the clock.
Benson took a 13-0 lead in the first quarter, scoring on a 10-yard interception return off a batted pass and then turning another Bulldog interception into a second first-quarter touchdown. Benson's first touchdown came after senior Sam Bayer ended their first drive with an interception, giving the ball to the Dogs deep in their own end.
The Dogs held Benson to less than 100 yards for the rest of the game and proceeded to sack Benson's quarterback 10 times - led by four sacks by Leyendecker and three by junior Kevin Klein. With Benson losing over 50 yards due to the sacks, they ended with only 21 yards rushing. The Dogs outgained Benson for the game 271 yards to 158 yards.
The Dogs started their comeback in the second quarter, when junior Jordan Spaeth recovered a fumble deep in Benson territory.
Junior Brett Savelkoul scored the Dogs' first touchdown on the next play, rushing 26 yards to paydirt.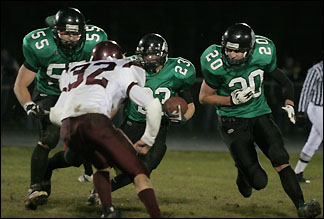 The two teams traded possessions for the rest of the half, with senior Matt Hansen ending Benson's final drive with the Dogs' second pickoff.
Trailing 13-6 at the break, the Dogs responded to coach Ted Nett's fiery halftime speech, outscoring Benson 12-0 in the second half to secure the team's third win of the season.
Junior Brett Savelkoul (23) led the Bulldogs' offense by rushing for 143 yards and a touchdown last week against Benson. His blockers on this play included junior Jordan Spaeth (55) and senior Aaron Burris (20).
Benson fumbled on their first possession of the second half, recovered by senior Brad Torborg for the Dogs. A goal-line fumble prevented the Dogs from scoring the tying touchdown, but after Benson got the ball on their 20-yard line due to the touchback, the Dogs forced them to go three-and-out and punt.
The Dogs then drove 55 yards in nine plays to score their second touchdown on Leyendecker's five-yard run. Their two-point conversion attempt, though, failed, leaving them behind 13-12.
After trading punts, Benson nearly scored again, driving into the Dogs' end before turning the ball over on downs. Leyendecker's third-down sack set up fourth-and-long, and Benson called for a double pass that was broken up at the goal line.
Starting at their own 25, the Dogs drove 75 yards in nine plays in their first fourth-quarter possession, capped by Leyendecker's second touchdown run to take an 18-13 lead. (Their pass attempt on the two-point conversion failed again.)
Benson had one more possession to try and score again, ended by Leyendecker's fourth-down sack, and then the Dogs ran out the clock.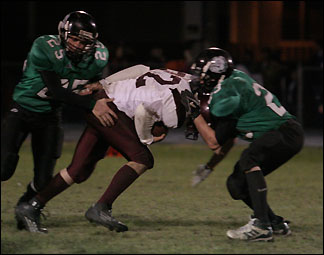 With the win, the Bulldogs finished their season in the West Central Conference South with a record of 2-5 (3-5 overall). Morris and Yellow Medicine East tied for the conference title; both going 6-1. The Dogs finished in a three-way tie for sixth with Lac Qui Parle Valley and Montevideo.
This week, the Dogs opened the section playoffs at Howard Lake-Waverly-Winsted on Tuesday, Oct. 24. The Dogs were seeded seventh, and the Lakers were seeded second.
Junior Kevin Klein (31) led the Bulldogs in tackles against Benson, including three quarterback sacks. Senior Brad Torborg (77) recovered a fumble for the Dogs on Wednesday, Oct. 18.
Should the Dogs upset the Lakers, they will advance to the section semifinals on Saturday, Oct. 28, at the higher seed at 7 p.m.
Section seedings are: #1 Eden Valley-Watkins; #2 Howard Lake-Waverly-Winsted; #3 ACGC; #4 Maple Lake; #5 Norwood Young America; #6 Mayer Lutheran; #7 Paynesville; and #8 Kimball.
| | | | | | |
| --- | --- | --- | --- | --- | --- |
| Benson-- | 13 | 0 | 0 | 0 | -- 13 |
| Paynesville-- | 0 | 6 | 6 | 6 | -- 18 |
Scoring Summary
First Quarter
Ben-Eric Lee 10 interception return (Daniel Fragodt kick);
Ben-Brandon Berens 17 run (kick failed);
Second Quarter
Pay-Brett Savelkoul 26 run (kick failed);
Third Quarter
Pay-Randy Leyendecker 5 run (pass failed);
Fourth Quarter
Pay-Leyendecker 8 run (pass failed).
Individual Statistics
Rushing (attempts-yards-TDs): Brett Savelkoul 20-143-1; Randy Leyendecker 13-40-2; Matt Hansen 3-14; Aaron Burris 2-7; Sam Bayer 5-7; Ted Hoffman 1-(-5);
Passing (completions-attempts-yards-INTs): Hoffman 6-13-65-2;
Receiving (receptions-yards): Naujokas 2-31; Hansen 2-20; Tyler Wolters 1-8; Savelkoul 1-6;
Interceptions: Bayer 1; Hansen 1;
Fumble Recoveries: Jordan Spaeth 1; Brad Torborg 1;
Sacks: Leyendecker 4; Kevin Klein 3; Burris 1.5; Joe Fry 1.0; Bill Thompson 0.5;
Tackles (solo-assists): Klein 5-8; Spaeth 4-8; Burris 3-5; Savelkoul 3-4; Bayer 3-2; Hansen 1-4;
Kickoffs: Bayer 4-190;
Kickoff Returns: Savelkoul 1-33; Mike Wendlandt 1-24;
Punts: Burris 4-128; Klein 2-54;
Punt Returns: Savelkoul 1-8.
Savelkoul honored in WCCS
Junior halfback Brett Savelkoul was named the Player of the Week for football in the West Central Conference South for his game against Morris on Friday, Sept. 29. Savelkoul rushed for 271 yards, including touchdown runs of 48 and 80 yards in the third quarter.
---
Contact the author at editor@paynesvillepress.com • Return to Sports
Home | Marketplace | Community
---