Subsection Champions!
This article submitted by Ryan Flanders on 10/25/00.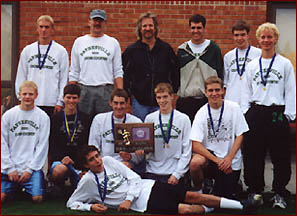 Last Tuesday's subsection meet at Minnewaska found the Bulldogs heads and claws above their nearest competitor. The Dogs defeated the number eight ranked team in the state, Montevideo, by a score of 27-52. The victory was capped off by five top-ten finishes, with the entire squad inside of 15th place.

Members of the championship team are: (front) Jessie Rien; (middle) Riley Flanders, Adam Utsch, Clayton Lang, Dan Pearson, Eric Korman; (standing) Travis Flanders, Coach Darrel Carstens, Coach Rick Houske, Coach Todd Spanier, Scott Thompson, Ryan Flanders.

Montevideo's top two runners ran competitively, but as a team the Thunderhawks were unable to surpass Paynesville's depth. Bulldog Clayton Lang and Thunderhawk Greg Liebl set a grueling pace, putting the first mile behind them in 4:50. Liebl pulled away in the final meters of the race, and Clayton came in 2nd in 16:05, almost 30 seconds ahead of the next runner.

Paynesville's crucial middle pack had a spread of only 18 seconds, and moved up to run with the Dogs' number two runner, Adam Utsch. Utsch finished 4th in 16:37 on the heels of Jed Landmark, Monte's second runner.

Dan Pearson flew into the chute only five seconds after Utsch, recording his best time of the season. His focus throughout the race earned him a sixth place finish in 16:42. "I thought Dan Pearson ran the best race I've seen him run all season," said coach Darrel Carstens.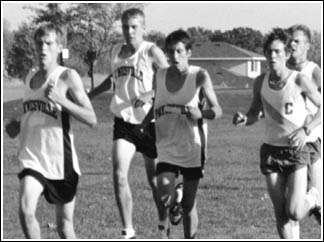 Jesse Rien dealt the third blow in Paynesville's 4-5-6 combination, finishing 13 seconds off of Pearson with a time of 16:55. Rien's consistent performances have been a major contribution to the team's success.
Sixteen seconds later Eric Korman crossed the finish line in 10th place, driving home the final knockout punch. He chased down Montevideo's third runner, but leaned just short of an additional spot. His time of 17:11 was 34 seconds faster than his time of 17:45 from last week's conference meet.
In another eight seconds Ryan Flanders finished the race, nabbing a spot from fellow competitor Jeremy Macho of Minnewaska along the way. He finished 12th with his best time of 17:19.
Travis Flanders ran an excellent race and finished 15th in 17:41 to put all seven of Paynesville's runners ahead of Montevideo's fourth. Tuesday marked the eighth meet of the season in which the Bulldogs took first place.
"We ran strong, and I'm proud of our performances," said Coach Carstens.
Possibly the most exciting meet of the post-season will be held tomorrow (Thursday, Oct. 26) at NL-S. The Bulldogs will battle four-time defending state champion Staples-Motley, eighth ranked Montevideo, and also state-ranked Crosby-Ironton at the section meet for a first or second place finish to carry them to state competition. Don't miss it!
Team standings
1. Paynesville -27
2. Montevideo -52
3. New London-Spicer -77
4. Morris -106
5. Minnewaska -139
6. BBE -157
7. Maccray -208
8. Ortonville -210
Individual results
2. Clayton Lang -16:05
4. Adam Utsch -16:37
5. Dan Pearson -16:42
6. Jesse Rien -16:55
10. Eric Korman -17:11
12. Ryan Flanders -17:19
15. Travis Flanders -17:41
---