The pressure builds as the season nears its end, and the girls' cross country team moved on to the section meet by taking second in the subsection last week.

The Bulldogs had a solid performance at the subsection meet on Tuesday, Oct. 15, at Albany High School. The state-rated Bulldogs took second, only five points behind state-rated St. Cloud Cathedral.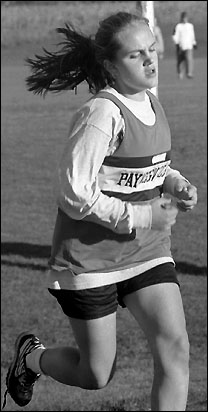 Cathedral is the team to beat at sections, which will be held on Thursday at Becker. The Bulldogs have trailed Cathedral by very small margins the last few meets, but have yet to beat the Crusaders this year.
Coach Darrel Carstens feels "we can beat Cathedral on a top-notch performance by the whole team." Even if the Bulldogs can't top Cathedral, they can qualify for a return trip to state by taking second at the section meet.
Ninth grader Sheena Hoekstra finished 36th at subsections at Albany in 19:07.
At subsections, the Bulldogs got excellent performances by eighth grader Kacy Nehowig and ninth grader Brooke Schmitz, who would have qualified for sections anyway, by placing in the top ten.
Nehowig took second place, trailing only Rachel Stangler, an All State runner from Albany. Schmitz, who has earned All State honors twice herself placed fourth, proving that she still has what it takes. "Kacy and Brooke looked like they were in top form, qualifying individually for sections. We are proud of them and their efforts," said Carstens.
Seventh grader Brittni Schmitz missed qualifying for sections by only one place, placing 11th. Eighth grader Tanis Beireis has been running quite well and she, once again, gave a solid performance as the fourth runner for the Dogs, placing 14th.
Senior Nicole Flint placed 17th as the fifth runner for the team. She is running healthy now, totally recovered from her shin injury. Seventh grader Kaitlyn Frenchick followed Flint closely, by only six seconds in 19th.
Completing the Bulldogs' lineup was ninth grader Sheena Hoekstra in 36th. She ran well, adjusting to the varsity distance.
The weather was the coldest that it was been all season. Many of the runners were bothered a little by the brisk, cool air. The breeze made it a chilly meet for spectators and runners alike.
The section meet will be held at the golf course in Becker on Thursday, Oct. 24, at 4:30 p.m.
Team Scores
1. St. Cloud Cathedral 43
2. Paynesville 48
3. Albany 67
4. Annandale 99
5. EV-W/Kimball 129
6. Royalton 164
7. Maple Lake 181
8. St. John's Prep 242
9. ACGC 249
10. Holdingford Inc.
Individual Results
2. Kacy Nehowig 15:36
4. Brooke Schmitz 16:01
11. Brittni Schmitz 16:55
14. Tanis Beireis 17:22
17. Nicole Flint 17:37
19. Kaitlyn Frenchick 17:43
36. Sheena Hoekstra 19:01
---
Contact the author at editor@paynesvillepress.com • Return to Sports
Home | Marketplace | Community
---