The Bulldogs boys' cross country team ran well at the subsection meet in Albany on Thursday, taking fourth place and earning a spot at the section race in Becker this week.

"We had to make the top four to move on and the guys accomplished it," said coach Darrel Carstens.

State-ranked St. Cloud Cathedral won the ten-team meet, followed by Annandale, Albany, and Paynesville.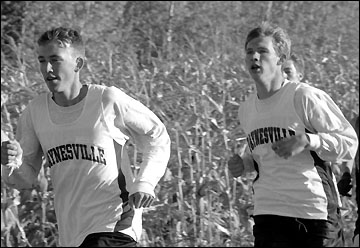 A little ways back was senior Freddie Stock in the 25th spot. Less than 10 seconds behind him was sophomore Jason Wendroth, finishing 27th. Right behind him was sophomore Matt Mehr in 28th, finishing the team score for the Bulldogs.
Senior Tom Flannigan and junior Chad Wyffels led the boys' team at the subsection meet last week at Albany. Flannigan finished 18th, and Wyffels finished 20th as the team finished fourth and qualified for the section meet this Thursday at Becker.
Sophomore Chris Utsch finished in 35th, just a few places ahead of eighth grader Dugan Flanders, Paynesville's seventh runner.
Dugan Flanders was moved back to the varsity lineup last week because senior Riley Flanders is still recovering from a stress fracture in his foot. Riley Flanders is expected to run this week at the section meet, which will be held on Thursday at the golf course in Becker. The meet starts at 4:30 p.m.
The Dogs will face the toughest competition yet this year for a shot at state. Only the top two teams advance to state from the section, so the Dogs will have to run very well this week.
Coach Carstens thinks the team has a chance to make it. "I feel we can do better across the board with this team and the section meet will be our opportunity," he said.
Team Scores
1. Cathedral 25
2. Annandale 56
3. Albany 78
4. Paynesville 118
5. St. John's Prep 166
6. Holdingford 174
7. Maple Lake 179
8. Royalton 221
9. ACGC Inc.
10. EV-W/Kimball Inc.
Individual Results
18. Tom Flannigan 18:49
20. Chad Wyffels 18:54
25. Freddie Stock 19:14
27. Jason Wendroth 19:22
28. Matt Mehr 19:26
35. Chris Utsch 20:14
39. Dugan Flanders 20:26
---
Contact the author at editor@paynesvillepress.com • Return to Sports
Home | Marketplace | Community
---