The Paynesville girls' cross country team took home the runner-up trophy at subsections last week, placing three runners in the top five.

Ninth grader Kacy Nehowig won the subsection meet at Annandale on Tuesday, Oct. 14, covering the four-kilometer course in 16:05. It was her second individual title of the season, as she also won at BBE in September.

Ninth grader Tanis Beireis was fourth, her third top-five finish of the season. And eighth grader Kaitlyn Frenchick was fifth, her best finish of the season.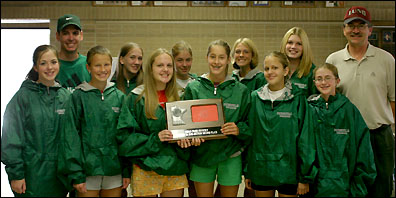 Nehowig, Beireis, and Frenchick all qualified to advance to sections individually by placing in the top ten.
The Bulldog girls' cross country team finished second at subsections last week at Annandale, qualifying for sections this week where they will attempt to defend their section title. Pictured with their trophy are: (front) Morgan Kern, Kacy Nehowig, Sheena Hoekstra, Tanis Beireis, Shanna Hoekstra, and Rheanne Zimmerman; (back) assistant coach Todd Spanier, Krista Wendroth, Melanie Koerner, Kaitlyn Frenchick, Lindsey Wyffels, and coach Darrel Carstens.
"Our top three runners were awesome today, and we made a good run at the subsection title," said coach Darrel Carstens. "We'll need a little help though if we are to have a chance at returning to state. We have a chance and are excited."
Despite having three runners in the top five, the Bulldogs were beaten for the subsection title by Rockford, which had three runners in the top ten and all seven in the top 20.
Seventh grader Rheanne Zimmerman was Paynesville's fourth runner, finishing 22nd. Eighth grader Melanie Koerner completed the Dogs' team score by taking 26th.
Ninth grader Krista Wendroth was 28th, and sophomore Sheena Hoekstra was 34th for the Bulldogs.
For the junior varsity, seventh grader Shanna Hoekstra was fourth, eighth grader Tarin Beireis was fifth, sophomore Lindsey Wyffels was 13th, and ninth grader Morgan Kern was 17th.
In the junior high race, seventh grader Kelsey Miller was seventh and eighth grader Allie Wendroth was 10th.
The Bulldogs' varsity will try to defend their section title at Section 5A meet at the Pebble Creek Golf Course in Becker on Thursday, Oct. 23. The top two teams and top ten individuals will advance to state. The meet starts at 4 p.m.
Paynesville's girls have won the Section 5A title the past two years, edging St. Cloud Cathedral both times. Qualifying for sections this year from the east subsection were Rockford, Paynesville, Annandale, and Maple Lake. Qualifying from the west subsection were St. Cloud Cathedral, Becker, Albany, and Mora.
Team Scores
1. Rockford 44
2. Paynesville 58
3. Annandale 64
4. Maple Lake 94
5. EV-W/Kimball 117
6. St. John's Prep 164
7. ACGC INC.
8. HL-W-W INC.
Individual Results
1. Kacy Nehowig 16:05
4. Tanis Beireis 16:34
5. Kaitlyn Frenchick 16:36
22. Rheanne Zimmerman 18:09
26. Melanie Koerner 18:47
28. Krista Wendroth 19:03
34. Sheena Hoekstra 20:06
---
Contact the author at editor@paynesvillepress.com • Return to Sports
Home | Marketplace | Community
---