Despite a fourth-quarter rally, the Paynesville Bulldogs football team lost to Morris last week 57-34, ending a winless regular season for the Dogs.

Morris, which tied for the conference title with a 4-1 record, built a 43-6 lead in the first half before the Bulldogs rallied in the second half, including outscoring the Tigers 22-7 in the fourth quarter.

Paynesville turned the ball over twice in the first half - one fumble and one interception - and also turned the ball over on downs twice. Morris scored touchdowns on all six of its first-half possessions.

The Bulldogs' lone scoring drive in the first half was a 12-play, 72-yard drive, all running plays, that started in the first quarter and ended in the second with ninth grader Matt Hanson scoring his first varsity touchdown on a seven-yard run.

Junior fullback Mike Mueller rushed for 46 yards on this drive.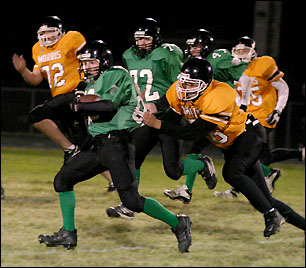 Trailing 43-6 at the half, the Dogs turned the ball over on downs again to start the second half, and Morris scored on a 74-yard pass to take a 50-6 lead. But the Dogs responded with a 12-play, 74-yard scoring drive, again all on the ground, capped by a 20-yard touchdown run by ninth grader Randy Leyendecker.
Paynesville's second-team defense forced two turnovers to start the fourth quarter, an interception by sophomore Trent Hansen and a fumble recovery.
Sophmore Trent Hansen (82) returns an interception in the second half against Morris last week. Looking to block for Hansen were teammates Mike Berry (72), Keith Klein (47), and Jimmy Jansen (62).
Sophomore Keith Klein rambled 35 yards for a touchdown after the first turnover, and Hanson scored his second touchdown after another long run by Klein after the second.
Sixteen quick points to start the final quarter forced Morris to bring their first-string offense back on the field. Morris used both their first-and second-string offenses on a 14-play, 76-yard drive to score their final touchdown.
On the ensuing kickoff, junior Eric Hanson scored his first varsity touchdown, returning the kick 80 yards for the final score.
Paynesville had 355 yards rushing and 12 yards passing, while Morris had 233 yards on the ground and 335 yards in the air. Neither team attempted a punt.
With the loss, the Bulldogs ended the regular season 0-8 overall and 0-5 in the WCC South.
The Bulldogs were seeded seventh in Section 5AA and played second-seeded Holdingford in the section quarterfinals on Tuesday, Oct. 21. If the Bulldogs beat the Huskers, rated third in Class AA in the state, they will advance to the section semifinals against either Eden Valley-Watkins or Howard Lake-Waverly-Winsted on Saturday.
The Section 5AA seedings were as follows: #1 Norwood Young America, #2 Holdingford, #3 Eden Valley-Watkins, #4 Maple Lake, #5 ACGC, #6 Howard Lake-Waverly, #7 Paynesville, and #8 Kimball.
The section championship will be played on Friday, Oct. 31. All section games are played at the higher seeded school.
| | | | | | |
| --- | --- | --- | --- | --- | --- |
| Morris-- | 21 | 22 | 7 | 7 | -- 57 |
| Paynesville-- | 0 | 6 | 6 | 22 | -- 34 |
Scoring Summary
First Quarter
Mor-Tore Bredvik 31 run (Zach Schaefer kick);
Mor-Jake Moen 41 pass from Eric Meischner (kick failed);
Mor-Brady Sharstrom 13 pass from Meischner (Bredvik pass from Meischner);
Second Quarter
Mor-Brett Winkelman 35 pass from Meischner (Meischner run);
Pay-Matt Hanson 7 run (run failed);
Mor-Winkelman 5 pass from Meischner (Schaefer kick);
Mor-Andy Lembcke 1 run (Schaefer kick);
Third Quarter
Mor-Kevin Storck 74 pass from Meischner (Schaefer kick);
Pay-Randy Leyendecker 20 run (pass failed);
Fourth Quarter
Pay-Keith Klein 35 run (Hanson run);
Pay-Hanson 2 run (Jordan Haag pass from Jamie Paul);
Mor-Will Schwaller 5 run (Schaefer kick);
Pay-Eric Hanson 80 kick return (pass failed).
Individual Statistics
Rushing: Mike Mueller 14-119; Randy Leyendecker 23-110-1; Matt Hanson 14-67-2; Keith Klein 2-59-1;
Passing: Paul 3-7-12-1;
Receiving: Mueller 1-15; Haag 1-3; Leyendecker 1-(-6).
---
Contact the author at editor@paynesvillepress.com • Return to Sports
Home | Marketplace | Community
---