The Paynesville boys' cross country team took second at the subsection meet last week at Annandale, running a super race, according to coach Darrel Carstens.

"We were happy with the subsection runner-up title," said Carstens. "This was a good day for the Dogs. We also know we can do better."

By taking second, behind Annandale, the Bulldogs qualified for the Section 5A meet as a team, by virtue of being among the top four teams.

Senior captain Chad Wyffels led the Bulldogs by placing fourth. He qualified individually for sections as well by placing in the top ten.

"Chad was a great leader today and deserves his accomplishments with hard work," said Carstens.

The Bulldogs had their top five runners all finish in the top 20 at the subsection meet on Tuesday, Oct. 14. Ninth grader Dugan Flanders was 12th, and junior Matt Mehr was 13th, despite running without his spikes.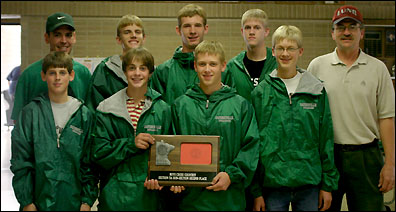 Junior Todd Thielen broke the 20-minute mark for the first time this season over the five-kilometer course and finished 17th with his best time of the season (19:28).
The Bulldogs boys' cross country team finished second at subsections on Thursday at Annandale, advancing to sections this week. Pictured with their trophy are: (front) Jamison Wall, Dugan Flanders, Todd Theilen, and Peder Thompson; (back) assistant coach Todd Spanier, Matt Mehr, Chad Wyffels, Jason Wendroth, and coach Darrel Carstens. Not pictured are Chris Utsch and Nathan Friederichs.

Junior Chris Utsch had the same time and finished 18th to complete the Dogs' team score.
Junior Jason Wendroth was 21st, and ninth grader Peder Thompson was 32nd for the varsity team.
The junior high boys team dominated their race with a near perfect score of 18. (The lowest score possible in cross country is 15, by placing first, second, third, fourth, and fifth.)
Eighth grader Josh Sturtz was first, seventh grader Jamison Wall was second, seventh grader Nathan Friedrichs was third, sixth grader Kohl Nehowig was fourth, eighth grader Brandon Soine was eighth, seventh grader Russell O'Fallon was 12th and seventh grader Ezra Thompson was 13th.
The Bulldogs' varsity will compete at the Section 5A meet at the Pebble Creek Golf Course in Becker on Thursday, Oct. 23.
The top two teams and top ten individuals will advance to state. The meet starts at 4 p.m.
Qualifying for sections from the east subsection were Annandale, Paynesville, Rockford, and St. John's Prep. Qualifying from the west subsection were St. Cloud Cathedral, Albany, Mora, and Pierz.
"We are looking forward to the section meet and plan to finish in the top half," said Carstens.
Team Scores
1. Annandale 33
2. Paynesville 64
3. Rockford 72
4. St. John's Prep 109
5. Maple Lake 115
6. HL-W-W 140
7. ACGC INC.
8. EV-W/Kimball INC.
Individual Results
4. Chad Wyffels 18:20
12. Dugan Flanders 18:51
13. Matt Mehr 18:57
17. Todd Thielen 19:28
18. Chris Utsch 19:28
21. Jason Wendroth 19:47
32. Peder Thompson 20:37
---
Contact the author at editor@paynesvillepress.com • Return to Sports
Home | Marketplace | Community
---