Hesses earn All Conference honors as girls place third
This article submitted by Erin Aagesen on 10/20/99.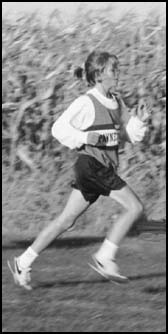 Jen and Kim Hess placed first and 12th individually in the West Central Conference meet last Thursday. As a team, the Bulldogs placed third.

The Hesses were awarded All Conference honors for their efforts. Jen, who dashed to the finish line in 14:14, had this to say about her race, "I felt really relaxed during the race. Coach Carstens kept making me laugh while I was running." Kim(pictured at left) completed the course in 16:24 and said she also felt good while running.

The meet took place in Sauk Centre, in warmer weather than the previous week's meet on the same flat course. "It was perfect weather to run in. It was warm, but not too warm, and there was hardly any wind," said Carin Frenchick.

Danielle Lieser placed 15th in the race, running hard, but just missing All Conference recognition by one place. She finished in 16:46. In 18th was Erin Aagesen, with a time of 17:11. Tiff Rausch placed 23rd, finishing in 17:51. One second behind her came Carin Frenchick in 24th.

In 27th place was Mesa Frenchick, with a time of 18:02. "We finished about where we should have been," she said of the team's third place finish. "We would have liked to have finished higher, but didn't do any better or worse than we were expected to."

The girls ran the sub-section meet yesterday in Morris. The top four placing teams there will advance to sections at NL-S on Thursday, Oct. 28.


Varsity team standings
1. Cathedral - 34
2. Sauk Centre - 47
3. Paynesville - 69
4. Albany - 76
5. LPGE - 132
6. Litchfield - Inc.
---