Sophomore Kacy Nehowig and ninth graders Kaitlyn Frenchick and Melanie Koerner earned All Conference honors in the West Central Conference North by finishing in the top 14 individually last week at Sauk Centre.

The Dogs finished third out of five teams at the meet.

The Paynesville girls ran well in finishing third in the conference with three All Conference runners leading the way for the Dogs, said coach Darrel Carstens.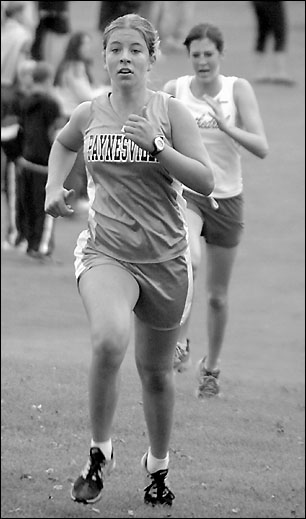 Nehowig earned All Conference honors in cross country for the fourth straight year. For the second year in a row, she finished third, trailing only Beth Tacl and Libby Zupanc, both top ten runners at state last year for St. Cloud Cathedral, which won the team title.
Ninth grader Melanie Koerner earned All Conference Honors for the first time.
Frenchick, who just missed earning All Conference honors last year when she finished 15th (the top 14 runners are All Conference), improved to seventh this year.
Koerner, who was 25th last year, improved to 12th this year.
All three runners ran their season-best time. Nehowig (15:34) ran the 4,000-meter course (roughly two and a half miles) in less than 16 minutes for the third time this fall; Frenchick (16:06) improved her best time this fall by 24 seconds; and Koerner (17:18) ran the course 44 seconds faster than her previous best this fall.
Eighth grader Kally Felling (18:02 in 23rd) and ninth grader Tarin Beireis (18:13 in 25th) also ran season-best times in completing the Dogs' team score. Felling ran six seconds faster than her previous best, while Beireis improved her time by nearly a minute.
The Bulldogs' junior varsity finished second as a team at the conference meet.
This week, the Dogs ran in the subsection meet at Annandale on Tuesday. Next week, if they qualify, they will run in the Section 5A meet at the Pebble Creek Golf Course in Becker on Thursday, Oct. 28.
Team Scores
1. St. Cloud Cathedral 49
2. Sauk Centre 57
3. Paynesville 70
4. Albany 78
5. LPGE 82
Individual Results
3. Kacy Nehowig 15:34
7. Kaitlyn Frenchick 16:06
12. Melanie Koerner 17:18
23. Kally Felling 18:02
25. Tarin Beireis 18:13
28. Sheena Hoekstra 19:23
---
Contact the author at editor@paynesvillepress.com • Return to Sports
Home | Marketplace | Community
---