Benson rallied in the second half, overcoming an 18-7 halftime deficit to beat the Bulldogs 22-18 on Friday night and securing second place in the West Central Conference South.

The Bulldogs scored three first-half touchdowns in building that 18-7 lead and took advantage of two first-half fumbles by Benson.

But Benson outscored the Dogs 15-0 in the second half and scored the winning touchdown with six minutes to play in the fourth quarter on a fourth-down halfback pass, their only pass completion of the game.

Benson opened the scoring with a touchdown on their first drive in the first quarter. After converting a fourth-and-one to continue the drive, senior Kyle Hilleren broke a tackle and sprinted 38 yards to the end zone. Hilleren rushed for 194 yards for Benson.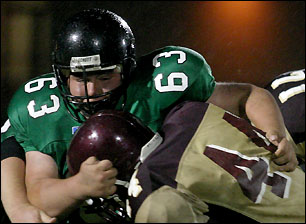 But the Dogs answered in the first quarter with a 68-yard touchdown drive. Sophomore halfback Randy Leyendecker rushed seven times for 43 yards on the drive, and junior quarterback Jamie Paul hit junior end Sean Glenz with an 11-yard pass on fourth down to keep the drive alive. Sophomore Matt Hansen scored the touchdown for the Dogs on a three-yard run.
Senior Cody Flanders wraps up a Benson ballcarrier on Friday. Flanders accounted for one turnover for the Dogs, recovering a Benson fumbler.
Benson fumbled on their next possession, but the Dogs were unable to capitalize, going three-and-out and then punting. But when Benson fumbled again in the second quarter, recovered by senior Cody Flanders, the Dogs took the lead on a 60-yard screen pass from Paul to Leyendecker, who outsprinted the Benson defenders to reach the end zone.
After Paynesville forced Benson to punt again, the Dogs used another big play to score their final touchdown. On second and short, Hansen broke free from a gang tackle and ran 47 yards to the end zone.
The Dogs led 18-7 at the half but failed to convert any of their point-after attempts, missing their first kick and getting stopped on two two-point attempts. That proved to be the difference in the game, as Benson scored three touchdowns, too, but converted all three PAT, including a two-point conversion.
Benson took the second half kickoff and drove 64 yards in 11 plays to cut the Dogs' lead to 18-15.
In their only possession of the third quarter, the Dogs gained two first downs to reach midfield but then fumbled two snaps, recovering both, but having to punt.
Benson ran 10 plays before the Dogs forced them to punt early in the fourth quarter. The Dogs, however, went three-and-out on their next possession and punted again.
Benson used a 32-yard run by Hilleren to move the ball into the Dogs' territory. Facing fourth and three from the Dogs 14-yard line, Benson committed their only penalty, making it fourth and eight. Benson ran a halfback pass with Hilleren. Senior Justin Butkofski hit Hilleren deep in the backfield, spinning the Benson halfback around, but with Butkofski wrapped around his legs, Hilleren launched a long, high pass towards the end zone. The pass was apparently meant for the Benson fullback, but Benson's quarterback caught the ball in stride and scored the go-ahead touchdown.
Now trailing 22-18 with less than six minutes to play, the Dogs ran for two first downs and reached midfield. But a fumble, recovered by the Dogs, set up second-and-long. The Dogs got a couple yards back on a screen pass, but their third-down pass was batted down and their fourth-down pass was dropped, giving the ball back to Benson.
The Dogs stopped Benson on three plays, but even after calling three timeouts, they had only 31 seconds left when they got the ball back on their own 20-yard line. Paul completed a 23-yard catch and run to Hansen on the final play, but he was tackled around midfield.
Benson (3-1 in the WCC South and 5-2 overall) clinched at least a tie for second place in the conference with the win. Paynesville (2-2 in the WCC South and 2-5 overall) dropped into a tie for third.
While the Dogs outgained Benson 268 yards to 258 yards for the game, Benson ran 31 plays gaining 148 yards in the second half, while the Dogs had only 54 yards on 23 plays in the second half.
This week, the Bulldogs will play their final regular season game when they host Sauk Centre on Wednesday, Oct. 20, at 7 p.m. Sauk leads the WCC South at 4-1 and is 7-0 overall this fall.
| | | | | | |
| --- | --- | --- | --- | --- | --- |
| Benson-- | 7 | 0 | 8 | 7 | -- 22 |
| Paynesville-- | 6 | 12 | 0 | 0 | -- 18 |
Scoring Summary Individual Results
First Quarter
Ben-Kyle Hilleren 38 run (kick good);
Pay-Matt Hansen 3 run (kick failed);
Second Quarter
Pay-Randy Leyendecker 60 pass from Jamie Paul (run failed);
Pay-Hansen 47 run (pass failed);
Third Quarter
Ben-Hilleren 3 run (Adam Jensen run);
Fourth Quarter
Ben-Jensen 19 pass from Hilleren (kick good).
Individual Statistics
Rushing (attempts-yards-TDs): Randy Leyendecker 16-80; Hansen 6-54; Mike Mueller 7-31; Aaron Bachman 3-8; Jamie Paul 2-(-1);
Passing (completions-attempts-yards-TDs): Paul 4-9-96-1; Sean Glenz 0-1;
Receiving (receptions-yards-TDs): Leyendecker 2-62-1; Hansen 1-23; Glenz 1-11;
Fumble Recoveries: Mueller; Cody Flanders.
---
Contact the author at editor@paynesvillepress.com • Return to Sports
Home | Marketplace | Community
---