Don Anderson of Paynesville aced #4 at Koronis Hills Golf Course on Wednesday, Oct. 12, recording his first career hole in one.

Anderson has golfed for nearly 50 years, since taking up the game in college, and has increased his frequency of play since moving from Bloomington to AllDon Park in Paynesville two years ago.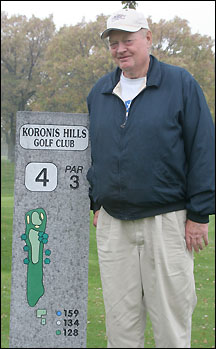 He was playing last week with Karl Smith in a twosome that teed off at 10:15 a.m. Playing the white tees with Smith, Anderson hit a seven iron at the 134-yard par-3 #4. "It looked like it was going to hit the green," said Anderson, but when they got to the green there weren't any balls on the putting surface.
Don Anderson of Paynesville recorded his first hole in one on Wednesday, Oct. 12, on #4 at Koronis Hills Golf Club. Anderson aced the 134-yard hole with a seven iron.
With the pin in back on the left side, they figured his ball must have gone over the green. "I started looking. I thought it must have gone over. Then I saw the trail," said Anderson. The ball had left a water trail in the dewy grass, a trail that led right to the hole.
From the trail in the dew, they saw that Anderson's ball had hit about 15 feet in front of the pin, took a little hop, and rolled into the cup, curving left slightly.
"We wish we would have had someone who could have seen it," said Smith, "instead of looking behind the green."
"I was kinda shocked," said Anderson of his first career hole in one. " I didn't know what to say. It was unbelievable. I've never even played with someone who has had a hole in one."
The 25 handicapper, who plays at least four times per week at KHGC because the course is so fun and convenient, he said, had his closest call with a hole in one earlier this summer, when his tee shot on #17 ended up a foot away from the pin.
Like any golfer, he always hoped to get a hole in one someday, he said.
He shot 93 to Smith's 94 last week. "Without that one, he would have beat me," noted Anderson.
Anderson retired in 1997 after working for 37 years with Traveler's Insurance Company in claims. He moved to Paynesville with his wife Dixie two years ago.
This is the fourth hole in one at Koronis Hills this summer and the first on #4. Of the four holes in one, three have occurred on the 12th day of the month: visitor Bob Peyton aced #17 on June 12; Father Richard Leisen aced #7 on September 12; and Anderson aced #4 on October 12.
---
Contact the author at editor@paynesvillepress.com • Return to Sports
Home | Marketplace | Community
---