Undefeated Atwater-Cosmos-Grove City, rated #2 in Class AA in the state, held the Bulldogs to 29 yards of offense and defeated the Dogs 34-0 on Friday in Grove City.

The Falcons, new members of the WCC South this year, can clinch the conference title in football by beating Yellow Medicine East this week. The Falcons already beat state-rated BOLD in overtime.

The Dogs, already hampered by injuries, lost sophomore fullback/ linebacker/punter Kevin Kline on the games's first play (ankle sprain).

A bad snap on their first punt led to a broken play and gave ACGC the ball in Dogs' territory for their first possession. The Falcons then drove 46 yards in seven plays to take a 7-0 lead.

The Dogs' second possession ended with a blocked punt, but this time the Dogs' defense was able to hold the Falcons, forcing ACGC to turn the ball over on downs.

But ACGC's defense forced the Dogs to go three and out again. The Dogs gained only seven yards and had no first downs in the first quarter.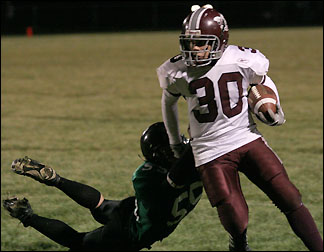 ACGC drove 62 yards on nine plays to take a 14-0 lead early in the second quarter. The Dogs just about had the drive stopped, forcing two incompletions and dropping ACGC's quarterback for a two-yard loss on third down. Combined with a five-yard penalty, ACGC faced fourth and 17 from the Dogs' 34, but connected on a 30-yard pass down to the Dogs' four-yard line and scored on the next play.
Sophomore Jordan Spaeth - shown making a tackle against YME - recovered a fumble for the Dogs in the second half against ACGC on Friday.
The Dogs had their best quarter offensively in the second quarter, gaining 27 yards and all three of their first downs (two by penalty). Their defense, meanwhile, forced ACGC to punt for the first time and then stopped another ACGC drive into their territory with two sacks. Sophomore Cyril Storkamp got the ACGC quarterback for a seven-yard loss on first down, and juniors Joe Fry and Brad Torborg combined for a sack on fourth down.
Leading 14-0 at halftime, ACGC took the second half kickoff and drove into Dogs' territory again but had to punt from the 38-yard line. They pinned the Dogs inside their one-yard line. After an incomplete pass on first down, ACGC tackled the Dogs' ballcarrier on second down for a safety.
ACGC took the free kick and drove 65 yards in nine plays, all runs, to make the score 22-0. Junior Alex Naujokas blocked the extra point attempt for the Dogs.
ACGC drove for a touchdown on their next possession, making it 28-0 early in the fourth quarter.
After a Bulldog punt, ACGC fumbled the ball, recovered by sophomore Jordan Spaeth, giving the Dogs the ball at midfield. On fourth down, though, ACGC got a sack to take over the ball in Paynes-ville's territory and proceeded to march 39 yards and score on a fourth-down pass play, making the score 34-0.
The Dogs had the ball for the rest of the game, as ACGC fumbled again on their only play from scrimmage, recovered by Fry.
For the game, the Dogs had 34 yards of offense in the first half, but had minus five yards in the second half, totaling only 29 yards.
This week, the Dogs (1-6 overall) face Benson on Wednesday, Oct. 19, in their last regular season game. This week is MEA for the school, so the game will be held on Wednesday.
| | | | | | |
| --- | --- | --- | --- | --- | --- |
| Paynesville-- | 0 | 0 | 0 | 0 | -- 0 |
| ACGC-- | 7 | 7 | 8 | 12 | -- 34 |
Scoring Summary
First Quarter
ACGC-Micah Nordin 2 run (Joshua Cunningham kick);
Second Quarter
ACGC-Kent Whitcomb 1 run (Cunningham kick);
Third Quarter
ACGC-Safety, Bulldog runner tackled in end zone;
ACGC-Justin Schroeder 1 run (kick blocked);
Fourth Quarter
ACGC-Nic Leither 8 run (kick missed);
ACGC-Josiah Puckett 8 pass from Damian Zaeska (kick missed).
Individual Statistics
Rushing (attempts-yards-TDs): Randy Leyendecker 6-15; Greg Price 6-1; Kevin Kline 1-0; David Christensen 4- (-1); Jeff Albright 1-(-1); Alex Naujokas 2-(-2); Isaac Jones 1-(-2); Matt Hansen 2- (-3); Jamie Paul 2-(-7);
Passing (completions-attempts-yards-TDs): Paul 7-17-29;
Receiving (receptions-yards-TDs): Hansen 4-24; Naujokas 2-10; Leyendecker 1-(-5);
Fumble Recoveries: Jordan Spaeth 1; Joe Fry 1;
Sacks: Cyril Storkamp 1; Brad Torborg 1/2; Fry 1/2;
Kickoffs: Christensen 1-37;
Kickoff Returns: Hansen 3-60; Brett Savelkoul 2-24; Albright 1-8;
Punts: Aaron Burris 7-210-30.0;
Punt Returns: Naujokas 1-9.
---
Contact the author at editor@paynesvillepress.com • Return to Sports
Home | Marketplace | Community
---