The Paynesville boys' cross country team finished sixth out of seven teams at the West Central Conference North meet in St. Cloud on Tuesday, Oct. 11.

St. Cloud Cathedral, ranked #1 in Class A, won the meet with 19 points, placing seven runners in the top ten. All seven earned All Conference honors.

The Bulldogs were led by ninth grader Jonathan Kerzman in 17th, just missing All Conference honors, which go to the top 14 runners.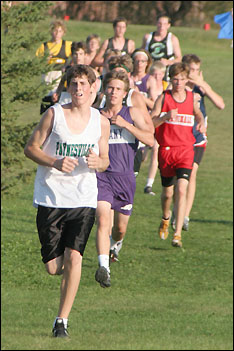 Junior Dugan Flanders was 23rd, junior Peder Thompson 30th, seventh grader Tanner Wendroth 31st, and ninth grader Jamison Wall 37th to complete the team score for the Bulldogs.
Ninth grader Jamison Wall was the Dogs' fifth runner at the conference meet last week, finishing 37th overall as the Dogs took sixth as a team.
The team, said coach Darrel Carstens, will need to run better at subsections this week if it is to advance to sections next week. "Overall, the boys did not run well," he said of their conference performance. "We need big improvements to get to sections."
One highlight for the Dogs at the conference meet was their junior high team placing second out of seven teams. Kohl Nehowig (fourth) and Trevor Spanier (tenth) placed in the top ten, and all seven runners placed in the top 20.
The Dogs ran at subsections in Rockford on Tuesday, Oct. 18. The top four teams and top ten individuals will qualify for sections at Pierz on Thursday, Oct. 27, starting at 4 p.m.
Team Scores
1. St. Cloud Cathedral 19
2. LPGE 56
3. New London-Spicer 100
4. Sauk Centre 108
5. Albany 114
6. Paynesville 138
7. Minnewaska Inc.
Individual Results
17. Jonathan Kerzman 18:31
23. Dugan Flanders 18:55
30. Peder Thompson 19:12
31. Tanner Wendroth 19:14
37. Jamison Wall 19:33
39. Ezra Thompson 19:50
40. Nathan Friederichs 20:04
---
Contact the author at editor@paynesvillepress.com • Return to Sports
Home | Marketplace | Community
---