The Montevideo Thunderhawks scored four touchdowns to start the first quarter, taking a 26-0 lead, and beat the Bulldogs football team 34-7 on Friday night in Montevideo.

Forcing the Dogs to punt after going three and out their first possession, the Thunderhawks scored on a five-play, 62-yard drive, completing a key 46-yard pass on third-and-long to continue the drive.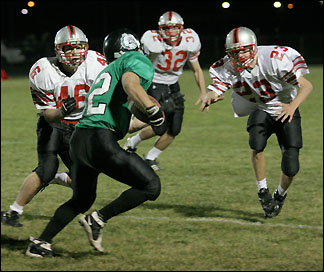 On the ensuing kickoff, the Dogs failed to cover the ball, and the Thunderhawks recovered. They proceeded to score again on a 20-yard pass play.
They forced the Dogs to go three-and-out again and after a short punt and another long pass scored again.
The final score during this first-quarter spree was a 25-yard fumble recovery where a Thunderhawk defensive lineman ripped the ball out of the Dogs' grasp.
Senior Randy Leyendecker - shown evading three BOLD defenders earlier in October - led the Dogs by rushing for 56 yards on Friday at Montevideo. He scored their only touchdown on a three-yard run in the first quarter, capping a drive keyed by his 25-yard run.
The Bulldogs made a number of costly mistakes and found themselves in a huge hole before they were ready to play, said coach Ted Nett. They played better afterward, but they can't spot teams 20 points, especially at Homecoming (for Montevideo), he added.
The Dogs, sparked by a 45-yard kickoff return by junior Brett Savekoul, drove 44 yards in five plays to score their only touchdown. Senior Randy Leyendecker scored on a three-yard run for the Dogs, who ended the first quarter down 26-7.
The Dogs then forced the first punt by Montevideo but had to punt the ball back to the Thunderhawks. Senior linebacker Sam Bayer recovered a fumble for the Dogs, who drove inside the Monte five-yard-line before fumbling the ball back to the Thunderhawks.
Later in the second quarter, Savelkoul recovered a fumble and returned it 31 yards into Monte territory, but the Dogs turned the ball over on downs on their remaining two first-half possessions.
Monte opened the third quarter by taking the kickoff and driving 77 yards for their fifth touchdown. The Dogs punted once and threw two interceptions in the quarter.
One highlight for the Dogs in the third quarter was Savelkoul recovering another fumble.
The Dogs went three-and-out on two fourth-quarter possessions. Monte, which outgained the Dogs 331 yards to 139 for the game, had six first downs in the second half, compared to one for the Dogs.
This week, the Dogs (2-5 overall, 1-5 in the WCC South) will host Benson in their last regular-season and conference game on Wednesday, Oct. 18, at 7 p.m.
| | | | | | |
| --- | --- | --- | --- | --- | --- |
| Paynesville-- | 7 | 0 | 0 | 0 | -- 7 |
| Montevideo-- | 26 | 0 | 8 | 0 | -- 34 |
Scoring Summary
First Quarter
Monte-Tyler Blomme 14 run (Eric Brandon kick);
Monte-Mike Amborn 20 pass from Tyler Grey (Brandon kick);
Monte-Blomme 1 run (kick failed);
Monte-Nolan Jesperson 25 fumble return (kick failed);
Pay-Randy Leyendecker 3 run (Sam Bayer kick);
Second Quarter
No scoring;
Third Quarter
Monte-Blomme 10 run (Brock Ackerman run);
Fourth Quarter
No scoring.
Individual Statistics
Rushing (attempts-yards-TDs): Randy Leyendecker 9-56-1; Brett Savelkoul 7-34; Sam Bayer 6-18; Adam Youngs 1-2; Matt Hansen 2-0; Shane Kampsen 1-0; Sam Rittenhouse 1-0; Ted Hoffman 1-(-2); Mike Wendlandt 1-(-4);
Passing (completions-attempts-yards-INTs): 5-12-35-2;
Receiving (receptions-yards-TDs): Savelkoul 1-10; Alex Svejkovsky 1-8; Bayer 1-7; Hansen 1-5; Isaac Jones 1-5;
Fumble Recoveries: Savelkoul 2; Bayer 1;
Kickoffs: Bayer 2-90;
Kickoff Returns: Savelkoul 2-56; Wendlandt 1-15; Nic Schmidt 1-8;
Punts: Kevin Klein 6-175.
---
Contact the author at editor@paynesvillepress.com • Return to Sports
Home | Marketplace | Community
---