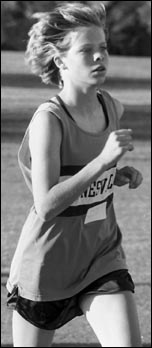 The Bulldogs, ranked second in Class A, won the West Central Conference North meet at Albany by six points on Thursday.

St. Cloud Cathedral, which is ranked eighth in Class A, were right behind the Bulldogs. The Bulldogs won 40 to 46. Sauk Centre, ranked tenth in the state, was third with 55.

"This was a great win in a very tough conference," said coach Darrel Carstens. "We ran well. It was fun."

The Bulldogs all wanted to run very well at this meet and earn All-Conference honors by placing in the top 14. Four Paynesville runners accomplished this feat by placing in the top ten individually. Jen Hess, Kim Hess (pictured at left), Kacy Nehowig, and Brooke Schmitz all earned All-Conference honors.

Senior Jen Hess, the defending state champion, won the conference title for the fourth time. "Jen has dominated the conference for four years, and she looks very strong," said Carstens.

Kim Hess, a ninth grader, ran a great race and placed fifth. She earned All-Conference honors for the third time.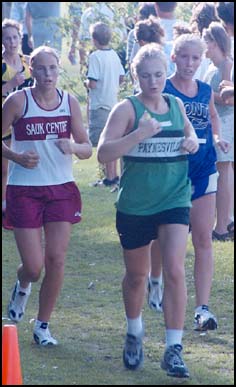 Next in was seventh grader Kacy Nehowig, who got tripped up in the beginning but got right back up and placed eighth. Just two seconds behind Nehowig was her own teammate, eighth grader Brooke Schmitz, in ninth. Schmitz earned All-Conference honors for the second straight year.
Junior Mandy Mayer was the Bulldogs' fifth runner. She missed All-Conference status by just three spots. Mayer placed 17th.
Seventh grader Tanis Beireis came in sixth for the Bulldogs. In only her second varsity meet, she placed 27th.
Nicole Flint (at right) was the Bulldogs' final runner. She was right behind Beireis in 29th place.
When asked how he felt about the girls' running, Carstens said, "We were strong. I'm proud of the girls."
"We have come together as a team and the goal is in front of us," he said about the rest of the season.
The Bulldogs ran at Albany again on Tuesday in the subsection meet. They will have nine days of practice before running in the Section 5A meet on Thursday, Oct. 25, at Becker.
Team Scores
1. Paynesville 40
2. Cathedral 46
3. Sauk Centre 55
4. Albany 93
5. Litchfield 143
6. LPGE 152
Individual Results
1. Jen Hess 14:58
5. Kim Hess 15:58
8. Kacy Nehowig 16:09
9. Brooke Schmitz 16:11
17. Mandy Mayer 17:19
27. Tanis Beireis 18:07
29. Nicole Flint 18:22
---
Contact the author at paypress@lkdllink.net • Return to Sports
Home | Marketplace | Community
---