The Bulldogs girls' cross country took second at the West Central Conference meet on Tuesday, Oct. 8, at Long Prairie, finishing a heart-breaking two points behind their section rival, St. Cloud Cathedral.

Cathedral edged the Bullogs 46-48 for the conference title.

The Bulldogs have not beaten Cathedral yet this year. "I think we need to be able to beat Cathedral to make it to state," said coach Darrel Carstens. If the Dogs are unable to beat Cathedral, they will need to place second or miss a return trip to the state tournament.

The weather last week was a little chilly for the spectators of the race, but the runners didn't seem to mind. Many runners wore clothes under their uniforms and gloves and headbands.

Four Paynesville girls took home All Conference honors from this race. (The top 14 finishers receive All Conference honors.)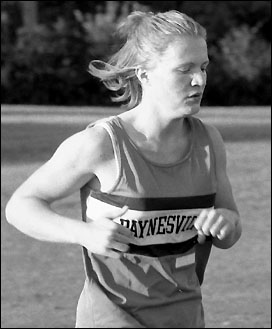 The Dogs had three runners in the top ten, led by eighth grader Kacy Nehowig, who placed second. Ninth grader Brooke Schmitz placed seventh, and her seventh grade sister Brittni Schmitz placed ninth.
Senior Nicole Flint returend to racing last week after nursing an injury. She finished 17th overall at the conference meet.
Also earning All Conference honors was eighth grader Tanis Beireis, who finished 13th.
Finishing the team score for the Bulldogs was senior Nicole Flint in 17th. She seems finally to have overcome her injury. "The timing could not have been better for her to get better," said Carstens.
Following Flint was seventh grader Kaitlyn Frenchick in 19th place.
Seventh grader Melanie Koerner had a difficult time running the race on the hilly course, becoming extremely fatigued. She walked a large portion of the race but finished in 32nd.
The Bulldogs ran on Tuesday at Albany in the subsection meet. The top ten individuals and top four teams advance to the section meet in Becker on Thursday, Oct. 24.
Team Scores
1. Cathedral 46
2. Paynesville 48
3. Sauk Centre 55
4. Albany 77
5. LPGE 137
Individual Results
2. Kacy Nehowig 15:51
7. Brooke Schmitz 16:32
9. Brittni Schmitz 17:04
13. Tanis Beireis 17:32
17. Nicole Flint 17:47
19. Kaitlyn Frenchick 18:00
32. Melanie Koerner 24:00
---
Contact the author at editor@paynesvillepress.com • Return to Sports
Home | Marketplace | Community
---