Paynesville's boys' cross country team ran at the tough course in Long Prairie for the second time this year, on Tuesday, Oct. 8. This meet, hosted by LPGE, was for the West Central Conference title.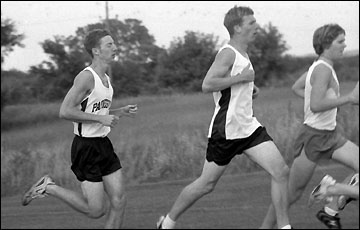 The competition was tough, although only five teams were there. The teams were very good, including state-ranked St. Cloud Cathedral and Sauk Centre's strong team as well.
Junior Chad Wyffels (center) and senior Freddie Stock (left) were the top two runnerss for the Bulldogs boys' cross country team last week.
Long Prairie's course is always one of the hilliest and always poses a challenge. On Tuesday, the weather was not ideal for running. It was windy and cool, which made the race even tougher. The boys ran well as a pack again, although still missing their top runner, senior Riley Flanders due to a foot injury.
Flanders is expected to return yet this season, so the team is very hopeful.
Missing All Conference honors by three places, senior Freddie Stock was the first Dog across the finish line. He placed 17th.
In second for the Dogs, one place behind Stock, was junior Chad Wyffels, who finished 18th. Right behind him was senior Tommy Flannigan, the Dogs' third runner, finishing 19th, less than ten seconds behind Stock.
Despite this good pack, the team couldn't quite stay with Cathedral and Sauk Centre.
Fourth for the Dogs was sophomore Jason Wendroth in 22nd place. Just two places behind him was sophomore Matt Mehr in 24th place. Those two battled once again this week and finished very close to one another, rounding out the points for the Bulldogs.
Paynesville's sixth runner was Chris Utsch finishing 26th.
Cathedral won the meet, with Sauk Centre taking second. Albany edged the Bulldogs for third, 97-100.
The young Dogs ran very well again this week in the junior high race. Eighth grader Dugan Flanders once again finished in the top pack, taking third. Eighth grader Peder Thompson and seventh grader Jamison Wall ran together and finished 15th and 16th.
All three of the junior high runners ran great, competing against Cathedral's team. Cathedral always has a very high number of young runners, which can be very overwhelming to young runners from other teams.
This week the Dogs ran in the subsection meet at Albany on Tuesday. The top four teams, out of eight, will advance to the section meet, which will be held on Thursday, Oct. 24, at Becker.
Coach Darrel Carstens thinks the team has a very good chance at going to sections, even if Riley does not run. If the team makes it to sections, expect Flanders to run.
Team Scores
1. Cathedral 28
2. Sauk Centre 42
3. Albany 97
4. Paynesville 100
5. LPGE 110
Individual Results
17. Freddie Stock 18:55
18. Chad Wyffels 18:58
19. Tom Flannigan 19:02
22. Jason Wendroth 19:52
24. Matt Mehr 20:12
26. Chris Utsch 21:01
---
Contact the author at editor@paynesvillepress.com • Return to Sports
Home | Marketplace | Community
---