Ninth graders Kacy Nehowig and Tanis Beireis earned All Conference honors by placing third and sixth in the conference meet last week, as the girls' cross country team placed third in the West Central Conference North.

Nehowig earned All Conference honors in cross country for the third straight year. She was eighth in the conference as a seventh grader and second last year as an eighth grader. This year, she trailed only two state-rated runners from St. Cloud Cathedral, who won the team title and are rated eighth in the state in Class A.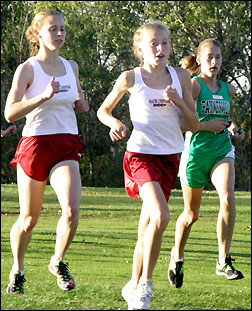 In seven varsity seasons - three cross country, two gymnastics, and two track - Nehowig has earned All Conference honors in all seven.
Beireis earned All Conference honors for the second straight year, improving from 13th in 2002 to sixth this year. She was 27th as a seventh grader in 2001.
Beireis notched her third top ten finish of the year.
Ninth grader Tanis Beireis earned All Conference honors for the second straight year by placing sixth.
Eighth grader Kaitlyn Frenchick and seventh grader Rheanne Zimmerman just missed finishing in the top 14 and earning All Conference honors. Frenchick was only one spot away, finishing 15th, and Zimmerman was three spots away, in 17th.
Eighth grader Melanie Koerner finished 25th to complete the Dogs' five-person team score. Ninth graders Sheena Hoekstra and Krista Wendroth were 27th and 31st respectively for Paynesville.
"The girls always have some ups and downs," said coach Darrel Carstens. "When the day comes that they are all up, we will have a great team put together. We were pleased with Kacy and Tanis making All Conference."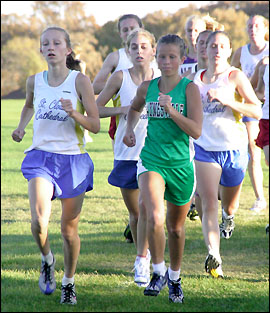 Cathedral won the conference team title with Sauk Centre second. Cathedral had six All Conference runners, and Sauk had four.
Ninth grader Kacy Nehowig led the pack in the varsity girls' race at the West central Conference North meet at Koronis Hills. Nehowig placed third individually, earning All Conference honors for the third time in cross country.
The girls' junior varsity was second at the meet behind Cathedral. Running for Paynesville, in order of finish, were seventh grader Shanna Hoekstra, sophomore Lindsey Wyffels, eighth grader Tarin Beireis, senior Trisha Wendlandt, and ninth grader Morgan Kern.
In the junior high race, seventh grader Kelsey Miller was ninth and eighth grader Allie Wendroth was 14th.
The Dogs ran in the subsection meet at Annandale on Tuesday. The top four teams and top ten individuals will qualify for the section meet, which will be held at the Pebble Creek Golf Course in Becker on Thursday, Oct. 23.
Team Scores
1. Cathedral 24
2. Sauk Centre 49
3. Paynesville 66
4. Albany 97
5. LPGE 130
Individual Results
3. Kacy Nehowig 16:21
6. Tanis Beireis 17:06
15. Kaitlyn Frenchick 18:09
17. Rheanne Zimmerman 18:46
25. Melanie Koerner 19:58
27. Sheena Hoekstra 21:10
31. Krista Wendroth 22:15
---
Contact the author at editor@paynesvillepress.com • Return to Sports
Home | Marketplace | Community
---