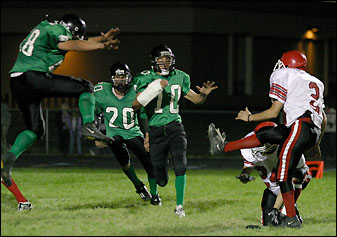 Lac Qui Parle Valley ran over the Bulldogs football team on Friday, rushing for nearly 400 yards and beating the Bulldogs 45-0.

Senior Nick Pillatzke, a 220-pound running back for LQPV, rushed for 294 yards on 16 carries, including touchdown scampers of 70, 60, 55, and five yards in the first half.

Senior Derek Burris (68) tries to block a PAT kick against Lac Qui Parle Valley on Friday, as sophmore Aaron Bachman (20) and senior Doug Mages (10) arrive too late to help. Burris suffered a knee injury in the second half of the Bulldogs' 45-0 loss to LQPV.

Pillatzke broke open the game with two long touchdown runs in the first quarter, both following Paynesville fumbles, and scored twice more in the second quarter. After the teams exchanged possessions to start the game, Paynesville fumbled on the seventh play of their second drive. On the next play, Pillatzke ran 60 yards for a touchdown. Paynesville fumbled again on their next possession, and again Pillatzke scored on the next play, this time running 55 yards for the score, giving LQPV a 14-0 lead.

The Bulldogs moved the ball into LQPV territory on their next two possessions. On the first drive, the big play was a 43-yard pass to senior end Jordan Haag from sophomore quarterback Jamie Paul. But the Bulldogs turned the ball over on downs, and LQPV drove 70 yards in eight plays for Pillatzke's third touchdown run.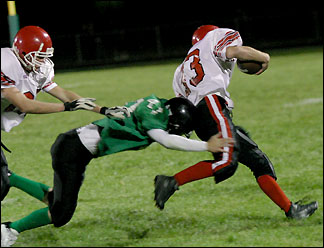 Trailing 20-0, the Dogs picked up two first downs on their next possession, including converting on fourth down, but they were stopped for no gain on a fourth-and-one play and turned the ball back to LQPV. Pillatzke took the ball on the next play and scored on a 70-yard run.
Sophomore Keith Klein (47) dives to make a tackle in the second half against Lac Qui Parle Valley on Friday.
With less than a minute left in the first half, LQPV blocked a Bulldog punt deep in the Dogs' territory, and senior quarterback Damian Coyour scored on their third play from scrimmage, making the score 33-0 at the half.
The Bulldogs forced LQPV to punt to start the second half, but the Bulldogs had to punt themselves. Junior Justin Butkofski punted the ball 61 yards for Paynesville, but Coyour picked the ball up and ran 81 yards for another LQPV score.
LQPV's junior varsity added a touchdown in the fourth quarter to make the final score 45-0.
The Eagles (2-2 in the West Central Conference South and 4-3 overall) ran 50 times and gained 393 yards, averaging almost eight yards per carry. LQPV held the Bulldogs to 179 yards of offense.
With the loss, the Bulldogs fell to 0-4 in conference and 0-7 overall.
This week, the Bulldogs will play their last regular season game. Due to the long weekend for the Education Minnesota conference, their home game against Morris will be played tonight at 7:30 p.m.
| | | | | | |
| --- | --- | --- | --- | --- | --- |
| LQPV-- | 14 | 19 | 6 | 6 | -- 45 |
| Paynesville-- | 0 | 0 | 0 | 0 | -- 0 |
Scoring Summary
First Quarter
LQPV-Nick Pillatzke 60 run (kick missed);
LQPV-Pillatzke 55 run (Chris Aagesen run);
Second Quarter
LQPV-Pillatzke 5 run (kick missed);
LQPV-Pillatzke 70 run (kick missed);
LQPV-Damian Coyour 20 run (Coyour kick);
Third Quarter
LQPV-Coyour 81 punt return (kick missed);
Fourth Quarter
LQPV-Cody Thompson 8 run (kick missed).
Individual Statistics
Rushing (attempts-yards): Randy Leyendecker 15-50; Keith Klein 5-31; Aaron Bachman 14-25; Jamie Paul 6-16; Eric Hansen 4-10; Mike Mueller 2-5;
Passing (completions-attempts-yards): Paul 3-7-58; Sean Glenz 1-2-16;
Receiving (receptions-yards): Jordan Haag 1-43; Hansen 1-16; Bachman 1-12; Mueller 1-3;
Kickoff returns: Mueller 4-97; Haag 1-18;
Kickoffs: Justin Butkofski 1-45;
Punt returns: Leyendecker 1-2;
Punts: Butkofski 2-96.
---
Contact the author at editor@paynesvillepress.com • Return to Sports
Home | Marketplace | Community
---