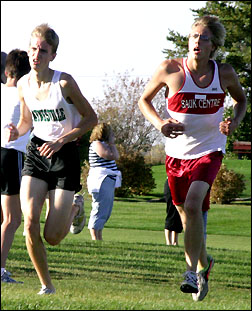 Junior Matt Mehr and senior Chad Wyffels earned All Conference honors in cross country last week, in leading the Bulldogs boys' cross country team to third place in the West Central Conference North meet at Koronis Hills.

In warm, sunny weather Mehr finished sixth overall, and Wyffels finished 13th to earn recognition on the All Conference team. Mehr covered the 5K-course at Koronis Hills Golf Club in 18:29, and Wyffels finished in 19:25. The top 14 runners earn All Conference honors.

Junior Matt Mehr finished sixth in the West Central Conference North Meet at Koronis Hills last week and earned All Conference honrs.

"It was great for Matt and Chad to make All Conference, and we should make a good run at the sub-section meet," said coach Darrel Carstens. "The times were slow, but they were for everyone with the heat and breeze."

Ninth grader Dugan Flanders just missed All Conference honors. Fighting for a spot in the top 15, Flanders was passed coming down the home stretch and finished 18th. Juniors Jason Wendroth, Chris Utsch, and Todd Thielen finished 23rd, 24th, and 25th for the Dogs, with Wendroth and Utsch completing the Dogs' team score.

The Bulldogs finished third in the conference, trailing state-rated St. Cloud Cathedral and Sauk Centre. All seven varsity runners from the deep Cathedral squad, rated sixth in Class A, earned All Conference honors by placing in the top 14.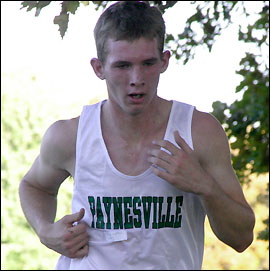 Paynesville beat Albany for third. The Bulldogs have faced Albany at four meets this fall and beat them twice and lost to them twice.
"We ran fair at conference," added Carstens. "The boys have been improving as a team throughout the year."
Senior Chad Wyffels took 13th at the WCC North meet last week, earning All Conference honrs.
Paynesville's junior high boys were second in the conference race behind Cathedral. Their top runner was seventh grader Jamison Wall in sixth. He was followed by seventh grader Nathan Friedrichs in eighth, eighth grader Josh Sturtz in 13th, sixth grader Kohl Nehowig in 14th, eighth grader Brandon Soine in 28th, seventh grader Russell O'Fallon in 31st and seventh grader Ezra Thompson in 38th.
"This is a very good junior high team with a bright future ahead of them," said Carstens.
The Dogs ran in the subsection meet at Annandale on Tuesday. The top four teams and top ten individuals will qualify for the section meet, which will be held at the Pebble Creek Golf Course in Becker on Thursday, Oct. 23.
Team Scores
1. Cathedral 27
2. Sauk Centre 63
3. Paynesville 84
4. Albany 94
5. LPGE 97
Individual Results
6. Matt Mehr 18:29
13. Chad Wyffels 19:25
18. Dugan Flanders 20:02
23. Jason Wendroth 20:27
24. Chris Utsch 20:43
25. Todd Thielen 20:54
30. Peder Thompson 22:45
---
Contact the author at editor@paynesvillepress.com • Return to Sports
Home | Marketplace | Community
---