Volleyball team places 2nd in tourney
This article submitted by Laura Mages and Courtney Karsch on 10/13/98.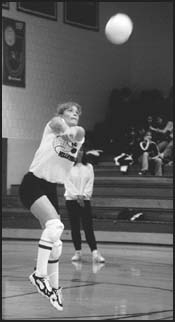 On Saturday, Oct. 10, the Bulldogs traveled to Minnewaska for their first tournament. The team brought home the second place trophy.

The first team they played was Wadena-Deer Creek. Even though it was 10 am, the girls were pumped up and ready to play good volleyball. That is just what they did.

Everyone played really hard, the intensity was high and the girls were playing as a team. Unlike a regular game, they played two games and then they added up all the points. The Bulldogs won their first two games. The scores were 15-6 and 15-2.

In the second match, they played against the West Central Area. This was a little more competitive. Paynesville won their first game, but lost their second. Because of the high scores, the Bulldogs went away with a win. The scores were 15-9 and 12-15.

In the third game, the Bulldogs played against Dilworth Glyndon-Felton. Again, like the last game, they won the first game and lost the second. The Bulldogs competed hard and had some really good plays. Again, since they add the total points, the Bulldogs walked away with another win. The scores were: 15-6 and 7-15.

The fourth and final game was the championship game against the host team, Minnewaska. The Bulldogs had played six games earlier in the day and knew they had to pick up the pace to win.

Paynesville had some really long vollies. They had some problem areas and ended up losing the match and claimed second place. The final scores were 8-15 and 2-15. To end on a good note, Tanya Lieser was voted to the All - Star team by the coaches.


Long Prairie
The varsity volleyball players started off the week with a win. On Tuesday, Oct. 6, the Bulldogs played the Long Prairie Thunder at home.

The first game was very competitive. The Thunder pulled it off with a 15-13 win. The Bulldogs were still excited and ready for another game. The second game was better, along with the next two. All of the games were really close, but the Bulldogs played hard, all the players had positive attitudes and tried their hardest to win the match.

Paynesville : 13 15 15 15
Long Prairie : 15 11 13 8

Melrose
On Thursday, Oct. 8, the Bulldogs traveled to Melrose. They had a lot of time to get pumped up and stretched out. The Bulldogs started out slow. They lost their first game and now knew what they had to do.

The next four, were very competitive and very intense. The Bulldogs won a game that ended up to be 19-17!

They played some good volleyball.

Paynesville : 2 15 19 10 6
Melrose: 15 11 17 15 15

The girls volleyball team now has a record of 7-8.

---