Boys finish second by a nose
This article submitted by Ryan Flanders on 10/13/99.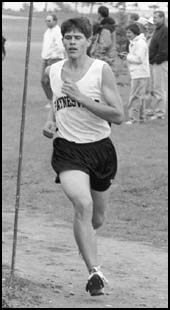 Staples-Motley edged the Bulldogs by one point for victory in the cross country meet last Tuesday at Sauk Centre.

Staples-Motley, the three-time defending state champion, is rated first in the state in Class A again this year. However, they ran without their top three runners Tuesday and narrowly held off the Bulldogs.

In fourth place overall was Clayton Lang, with a time of 17:06. Though Sauk Centre's course is flat, it's slightly longer than regulation, which accounts for the deceptive times. Nevertheless, Clayton ran a respectable race.

Adam Utsch (pictured at right) crossed the finish line 27 seconds later and two spots back, continuing his streak of consistent races.

Luc Trees showed some of his potential, finishing in ninth place with a time of 17:45. This was Luc's best race of the season, and if he continues using his talent even better races are yet to come.

At the head of the second pack was Paynesville's fourth runner, Dan Pearson. He was back in good health and fell right back into his groove, dancing himself to a funky 21st place finish.

Riley Flanders came on strong in the end of the race, finishing fifth for the team and 24th overall.

The final two Dogs in the pack were Eric Korman and Ryan Flanders, who finished 26th and 27th.

"I think overall we ran strong, but I know we can run stronger. Now is the time for our second pack to move up," said coach Darrel Carstens.

The Bulldogs have their conference meet tomorrow at Sauk Centre and are ready to race! Come and cheer on your 87-7 Bulldogs!

Varsity team standings
1. Staples - 63
2. Paynesville -64
3. Apollo -126
4. New London-Spicer -135
5. Albany -136
6. Wadena-Deer Creek -141
7. Sauk Centre -152
8. Holdingford -159
9. LPGE -169
10. Royalton -285
11. BBE -314
12. Minnewaska -Inc.
---