The Paynesville Bulldogs rallied in the second half, scoring 10 unanswered points and beating Montevideo in a conference football game 28-21. The victory was the Dogs' second in their past three games and moved them into second place in the WCC South with a record of 2-1.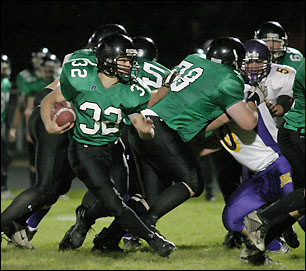 After fumbling twice in the first half, the Dogs trailed 21-18 at halftime, but they marched 68 yards in nine plays on their first possession of the second half to take a 25-21 lead.
Sophomore Randy Leyendecker makes a cut while senior Josh Binsfeld (78) provides a block. Leyendecker, back from an ankle sprain, rushed 28 times for 198 yards and two touchdowns on Friday night.
Sophomore Randy Leyendecker scored on a 11-yard touchdown run to give the Dogs the lead. Leyendecker, recovered from an ankle sprain that kept him out of the lineup earlier this fall, ran for 55 yards on four carries on this drive. For the game, Leyendecker rushed 28 times for 198 yards.
The Dogs' defense, after allowing 21 points in the first half, shut down the Montevideo offense in the second half. The Dogs forced Monte to punt twice in the third quarter and then had two interceptions in the fourth quarter. (Monte also turned the ball over once on downs.)
In five second-half possessions, Monte gained 48 yards on 20 plays and had only three first downs. For the game, the Dogs held Monte to 59 yards rushing and 243 total yards.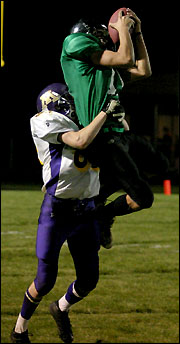 In the fourth quarter, the Dogs had two drives stall deep in Monte territory. Twice, the Dogs had first and goal but a holding penalty nullified a touchdown on one drive and a sack on third down stopped the second drive.
Junior Sean Glenz leapt to make this 10-yard reception, converting a fourth-down play for the Dogs.
Senior Justin Butkofski, trying to give the Dogs' a seven-point lead, just missed a 37-yard field goal, coming a yard short and right, at the end of the first drive but made a 32-yard field goal to conclude the second drive and give the Dogs a 28-21 lead.
Trailing by a touchdown, Monte drove to midfield but misfired on a fourth-and-two play to give the ball back to Paynesville. But the Dogs came up inches short on a fourth-down play in Monte territory, giving the Thunderhawks another chance.
Sophomore Matt Hansen, who also scored two touchdowns for Paynesville, ended the last Monte threat with an interception in the final minute.
Sophomore Alex Naujokas had intercepted a wayward Monte pass to start the fourth quarter, with the Monte quarterback under pressure from Butkofski.
All in all, the Dogs ran 38 plays in the second half and gained 166 yards in the second half while holding Monte to 48 yards on 20 plays.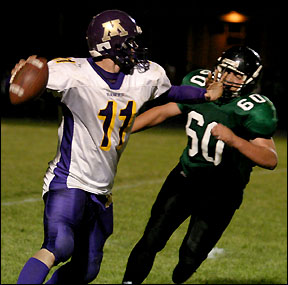 The Bulldogs scored on three of their five possessions of the first half, but fumbles ended their other two possessions and both times Monte turned the turnover into a touchdown.
Senior Justin Butkofski (60) pressured Montevideo quarterback Cody Dyshaw in the fourth quarter, forcing Dyshaw to throw an errant pass that was intercepted by sophomore Alex Naujokas. Butkofski also had another sack and kicked a 32-yard field goal for the Bulldogs.
After a long kickoff return to midfield to start the game, the Dogs fumbled on their second play from scrimmage. Monte used a 47-yard pass play to set up a one-yard touchdown run on fourth down to take a 7-0 lead.
The Bulldogs responded with a six-play, 60-yard touchdown drive, with Hansen reaching over the goalline on a 15-yard reception from junior quarterback Jamie Paul.
Trailing 7-6, the Dogs forced Monte to punt, but then fumbled deep in their territory. The Thunder-hawks scored on a 25-yard pass on their second play following the turnover.
The Bulldogs scored back-to-back touchdowns to take their first lead. First, they drove 78 yards in 14 plays, including a 12-yard fourth-down pass from Paul to senior fullback Mike Mueller, capped by a nine-yard run by Leyendecker.
Then, following a fumble forced and recovered by Mueller, the Dogs scored in three plays, driving 33 yards, with Hansen scoring on a 10-yard run.
With the Dogs leading 18-14, Monte scored on their final possession of the first half, driving 68 yards in 10 plays. A 44-yard pass brought the ball inside the Dogs' 10-yard line, and Monte scored on the next play on a six-yard run, making the score 21-18 at the half.
The Dogs are now 2-1 in the West Central Conference South and 2-4 overall. They are currently tied for second in the conference with Benson, who they will host on Friday, Oct. 15, for Homecoming. (Both Benson and Paynesville, at 2-1, trail Sauk Centre, which is 3-0 in the conference.)
| | | | | | |
| --- | --- | --- | --- | --- | --- |
| Montevideo-- | 7 | 14 | 0 | 0 | -- 21 |
| Paynesville-- | 6 | 12 | 7 | 3 | -- 28 |
Scoring Summary
First Quarter
Monte-Zach Bothun 1 run (Jon Altena kick);
Pay-Matt Hansen 15 pass from Jamie Paul (kick failed);
Second Quarter
Monte-Patrick Williamson 25 pass from Cody Dyshaw (Altena kick);
Pay-Randy Leyendecker 9 run (pass failed);
Pay-Hansen 10 run (run failed);
Monte-Bothun 6 run (Altena kick);
Third Quarter
Pay-Leyendecker 11 run (Justin Butkofski kick);
Fourth Quarter
Pay-Butkofski 32 field goal.
Individual Statistics
Rushing (attempts-yards-TDs): Randy Leyendecker 28-198-2; Mike Mueller 9-48; Aaron Bachman 7-32; Matt Hansen 7-29-1; Jamie Paul 4-(-1); Keith Klein 1-(-2);
Passing (completions-attempts-yards-TDs): Paul 4-8-69-1; Sean Glenz 0-1;
Receiving (receptions-yards-TDs): Leyendecker 2-32; Hansen 1-15-1; Glenz 1-10;
Field Goals: Justin Butkofski 1/2 (made 32; miss 37);
Kickoffs: Butkofski 6-294-49.0 avg;
Kickoff Returns: Hansen 2-66; Naujokas 2-32;
Punts: Butkofski 1-36;
Punt Returns: Hansen 1-0; Naujokas 1-0;
Fumble Recoveries: Mueller 1;
Interceptions: Hansen 1; Naujokas 1;
Sacks: Butkofski 1; Jimmy Jansen 1/2; Josh Tebben 1/2.
---
Contact the author at editor@paynesvillepress.com • Return to Sports
Home | Marketplace | Community
---