The Paynesville Bulldogs football team drove 81 yards and scored a touchdown on their opening possession, drawing great cheers from the Homecoming crowd, but state-rated Yellow Medicine East scored 32 unanswered points in the first half and the only two touchdowns of the second half to win the WCC South game 45-6.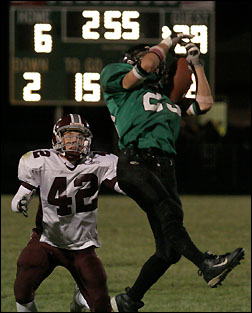 The Bulldogs (1-5 overall) scored first in a game for the first time this season. On their second play from scrimmage, senior quarterback Jamie Paul hit junior Alex Naujokas in the left flat, and Naujokas ran for a 57-yard gain.
Junior Matt Hansen intercepted this YME pass near midfield during the first half of the Dogs' 45-6 Homecoming loss on Friday night.
After a four-yard gain on the ground, the Dogs called for a reverse pass, with sophomore halfback Kevin Kline throwing a 20-yard touchdown pass to sophomore Alex Svejkovsky, giving the Dogs a 6-0 lead.
Yellow Medicine East, a state quarterfinalist last year and 3-1 in the WCC South this fall in their first year in the conference, answered with a 50-yard touchdown drive, taking a 7-6 lead. Then they forced the Dogs to punt and scored with two big gains, making it 14-6.
The Dogs got a 40-yard kickoff return by junior Matt Hansen to give them the ball in YME territory for their third possession. They gained one first down before facing fourth and six, when they attempted a fake punt that was stuffed by YME.
The Sting then marched into Dogs' territory and connected on a fourth-down pass play for another touchdown and a 21-6 lead.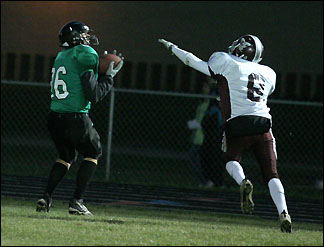 The Dogs went three and out on their next possession, and a bad snap on their punt attempt gave YME the ball on their seven-yard line. YME took the ball down to the one-yard line on first down, but then the Dogs' defense stood their ground.
Sophomore Alex Svejkovsky (86) caught this 20-yard touchdown pass in the first quarter on Friday as the Dogs took a 6-0 lead.
Junior Cole Kampsen stuffed the YME run on second down, the Dogs made a gang tackle on third down, and junior Sam Bayer made the stop on fourth down.
The Dogs, however, went three and out again, and another bad snap out of the end zone gave YME a safety and a 23-0 lead.
YME then took the kick from the Dogs and drove for another touchdown, connecting again on fourth down on a touchdown pass. The Dogs drove into YME territory on their next possession, but this drive stalled due to a sack. Kline punted the ball, which went out of bounds on the 11-yard line, pinning YME deep.
Hansen then intercepted a YME pass near midfield, but the Dogs were unable to move the ball and punted again, with Kline pinning YME on their four-yard line.
On their second play, YME hit a short pass with their receiver rambling for 67 yards before being pushed out of bounds. YME moved the ball inside the Dogs' 10-yard line again, but the Dogs succeeded in keeping the Sting out of the end zone, forcing a field goal, which made the score 32-6 at the half.
YME took the second half kickoff and marched for another touchdown, making the score 39-6. Then the teams exchanged fumbles, with the Dogs fumbling and then stopping a YME drive by forcing a fumble, recovered by sophomore Jordan Spaeth.
YME scored their last touchdown with their second string driving for a score to start the fourth quarter, this time connecting on a long pass on third down.
The Dogs drove again into YME territory but fumbled again, and reserves finished the game.
While YME shut down the Dogs' running game, limiting them to 32 yards rushing through three quarters, the Dogs found success through the air. Naujokas caught five passes for 100 yards, becoming the Dogs' first 100-yard receiver in a game since September 1997, when Tony Hoffman caught three passes for 107 yards in a loss to Albany.
This week, the Dogs (1-3 in the WCC South) will play undefeated and state-rated ACGC on Friday, Oct. 14, in Grove City.
| | | | | | |
| --- | --- | --- | --- | --- | --- |
| YME-- | 21 | 11 | 7 | 6 | -- 45 |
| Paynesville-- | 6 | 0 | 0 | 0 | -- 6 |
Scoring Summary
First Quarter
Pay-Alex Svejkovsky 20 pass from Kevin Klein (run failed);
YME-Clay Sharkey 20 pass from Luke Berg (Steven Risa kick);
YME-Jerrod Lobdell 26 run (Risa kick);
YME-Sharkey 8 pass from Berg (Risa kick);
Second Quarter
YME-Safety, punt snap out of end zone;
YME-Ryan Fromm 15 pass from Berg (kick missed);
YME-Risa 20 field goal;
Third Quarter
YME-Kyle Gaffaney 5 run (Risa kick);
Fourth Quarter
YME-Ian Olson 26 pass from Shawn Neu (kick blocked).
Individual Statistics
Rushing (attempts-yards): Kevin Kline 8-24; Matt Hansen 7-23; Jamie Paul 2-15; Aaron Bachman 3-7; Alex Naujokas 7-6; Greg Price 2-4; Brett Savelkoul 1-2; Jeff Albright 1-2;
Passing (completions-attempts-yards-TDs): Paul 9-15-156; Kline 1-1-20-1; Ted Hoffman 0-1;
Receiving (receptions-yards-TDs): Naujokas 5-100; Hansen 3-48; Alex Svejkovsky 1-20-1; Aaron Burris 1-8;
Interceptions: Hansen;
Fumble Recoveries: Jordan Spaeth;
Kickoffs: Sam Bayer 3-120-40.0;
Kickoff Returns: Hansen 5-100; Naujokas 1-17; Bayer 1-10;
Punts: Kline 4-134-33.5.
---
Contact the author at editor@paynesvillepress.com • Return to Sports
Home | Marketplace | Community
---