On Monday, Oct. 2, the Chain of Lakes girls' soccer team took on the Becker junior varsity at Centennial Park in Richmond. The Roosters were able to extend their unbeaten streak to three games, even without scoring a goal.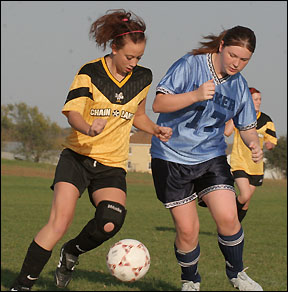 This was due to the fact that the defense played a magnificent game, and Kasi Huschle of Eden Valley-Watkins recorded her second shutout of the season, leaving the team with a 0-0 tie. The game left the girls with a 3-3-1 record on the season with two games to go.
On Monday, Oct. 9, they played St. Cloud Tech and then finished the season on Tuesday, Oct. 10 with a game at Becker. Scores of these games will be included in a future article.
Junior Kailey Kincade of Paynesville dribbled against a Becker defender last week during the Roosters' scoreless draw with the Bulldogs' junior varsity. In the background is Holly Latchum of Paynesville, who attends Eden Valley-Watkins High School.
Boys suffer first losses
Meanwhile, the boys' team suffered not only their first loss of the season, but their second one as well. On Monday, Oct. 2, they traveled to Becker for a rematch with the Becker varsity. After a scoreless first half the roof caved in on the team as they yielded four goals to the Bulldogs. The boys did show a never-give-up attitude, however, and managed to come back with two goals of their own, one from Henry Stelter, a German foreign exchange student at Eden Valley-Watkins, and the other from junior Keegan Meagher of Paynesville to make the final 4-2.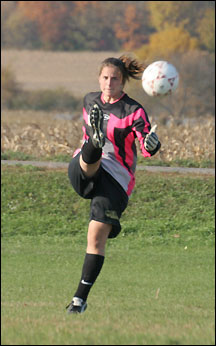 On Friday, Oct. 6, the boys traveled to Willmar for a game against the Willmar junior varsity. A strong wind faced the team in the first half, causing them to play back on their heels most of the time. Willmar scored two goals in the half, the first on a penalty kick.
Goalie Kasi Huschle of Eden Valley-Watkins recorded a shutout last week as the Roosters drew with the Becker junior varsity 0-0.
Chain of Lakes felt good about going into the second half only down by two, now with the wind at their back. Unfortunately Willmar scored a quick goal to make the score 3-0. But the Roosters were confident they could make a comeback and proceeded to score two goals to cut the lead to 3-2. The first goal was scored by Meagher, unassisted on a corner kick. Meagher then came back with a second goal scored off a free kick 20 yards out.
The boys continued to pressure the goal, but late in the game Willmar made good on one of their few chances and scored to make the final 4-2.
The boy's team is now 5-2-3 with one game left: on Monday, Oct. 9, at home against St. Cloud Tech.
---
Contact the author at editor@paynesvillepress.com • Return to Sports
Home | Marketplace | Community
---