With five top-ten finishes, the PAHS girls' cross country team won their third meet this fall, scoring a season-low 27 points at the BOLD Meet in Olivia on Thursday.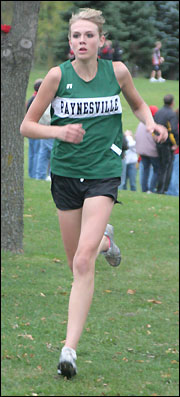 Sophomore Linda Keller led the top-ten barrage by the Dogs, winning her fourth race of the fall. She finished 30 seconds ahead of the second-place runner and more than a minute ahead of the rest of the nine-team field.
Senior Kacy Nehowig (fifth), senior Tanis Beireis (sixth), sophomore Bri Jaeger (seventh), and junior Kaitlyn Frenchick (eighth) finished in a top-ten pack, crossing the line within 15 seconds of each other.
Junior Kaitlyn Frenchick finished eighth at the BOLD meet last week, one of five PAHS girl runners to finish in the top ten.
All five of these Dogs earned medals for their runs, leading to the Dogs (27) beating Murray County Central/Fulda (50) by 23 points.
"We ran very well and had a great meet overall," said coach Darrel Carstens. "We picked up a lot of hardware, but more important became frontrunners. The kids did a great job."
This week, the Dogs ran at Albany on Tuesday. Next week, the Dogs will run in the WCC North Meet at Albany again on Tuesday, Oct. 17.
Team Scores
1. Paynesville 27
2. Murray County Central/Fulda 50
3. Springfield/Cedar Mountain 76
4. BOLD 98
5. Renville County West 103
ACGC Inc.
BBE Inc.
MACCRAY Inc.
Redwood Valley Inc.
Individual Results
1. Linda Keller 14:03
5. Kacy Nehowig 15:43
6. Tanis Beireis 15:47
7. Bri Jaeger 15:55
8. Kaitlyn Frenchick 15:57
31. Kirsten Miller 19:05
---
Contact the author at editor@paynesvillepress.com • Return to Sports
Home | Marketplace | Community
---