The Paynesville Bulldog football team upset BOLD on Friday night, scoring two touchdowns in the fourth quarter to win their Homecoming game 35-21.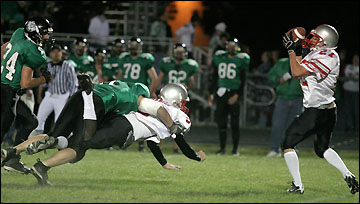 The Dogs scored 20 unanswered points to start the game, but BOLD responded with a touchdown late in the second quarter and two third-quarter touchdowns to take a 21-20 lead heading into the fourth quarter.
After playing into the strong southerly wind in the third quarter, the Dogs capitalized on the advantageous wind on their second play of the fourth quarter, after a short BOLD punt, as senior wideout Alex Naujokas took a short pass down the home sideline for the go-ahead touchdown.
Senior defensive end Isaac Jones (81) levels BOLD's quarterback but not before he pitched to a BOLD running back, who was tackled for a loss by senior defensive back Matt Hansen (24). Hansen also intercepted a pass and scored a touchdown for the Dogs on Friday night.
Junior quarterback Ted Hoffman hit Naujokas again for a 12-yard two-point conversion (following a holding penalty on their first attempt) for a 28-21 lead.
The Dogs forced BOLD to turn the ball over on downs, ending their next possession, but promptly fumbled the ball back to the Warriors. Junior Brett Savelkoul, though, got the ball back for the Dogs on the team's second interception, and the Dogs drove deep into BOLD territory before turning the ball over on downs on the BOLD one-yard line.
The Dogs stopped BOLD on first down, and the Warriors fumbled the ball on second down, recovered by senior Brad Torborg. With first and ten from the BOLD one-yard line, senior fullback Sam Bayer scored his second touchdown on second down and then kicked the extra point for the final margin of 35-21.
BOLD drove into the Dogs' territory on their final possession before turning the ball over on downs, with Naujokas batting down their fourth-down pass attempt.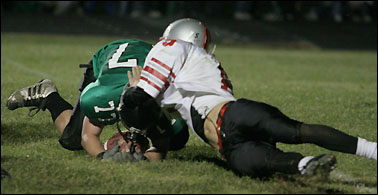 Last year, BOLD (3-2 in the WCC South and 3-3 overall) beat the Dogs 54-6. This year, the Dogs showed their physicalness on their first two drives, mainly on the ground, scoring touchdowns both times.
Senior Brad Torborg recovered this BOLD fumble on their one-yard line in the fourth quarter, setting up the Bulldogs for their final touchdown.
The Dogs came ready to play, said coach Ted Nett, and executed every part of their game plan well. "We executed like we've told them all year we were capable of," said Nett.
The team play hard, added assistant coach Josh Kuenzel, and 'sent a message (to BOLD) that we were there to play and going to play all four quarters."
Even after the Dogs fell behind, said Nett, they never relented, despite being tired. In the fourth quarter, "it was just a matter of some guys stepping up and saying we're not going to let this one get away. They just had such a desire to play," he said.
The Dogs bolted to a 20-0 lead, scoring on their first three first-half possessions. After Savelkoul opened the game with a 42-yard kickoff return, the Dogs took advantage by driving for their first touchdown, a six-yard run by senior Matt Hansen on third down.
The Dogs' defense forced BOLD to punt after three plays for their only first-quarter possession, and the Dogs scored again on their next drive, with Hoffman hitting Naujokas with a 35-yard pass play on third down.
BOLD, after driving to midfield, turned the ball over on downs again to the Dogs, who turned that field position into their third touchdown when Bayer broke away for a 30-yard touchdown run.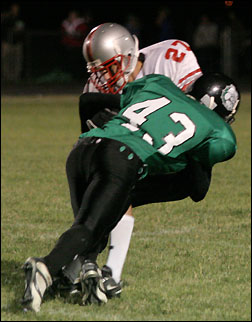 The Dogs appeared to be on the verge of forcing another BOLD drive to end when the Warriors hit their first big play, a 60-yard pass play to score their first touchdown and make the halftime score 20-6. (The last BOLD drive of the half ended when junior linebacker Kevin Klein forced a fumble, recovered by senior linebacker Nathan Kranz.)
BOLD, however, took the second-half kickoff and drove for their second touchdown. Then, after the Dogs turned the ball over on downs and the two teams exchanged interceptions, BOLD drove to paydirt again, taking a 21-20 lead with the extra point.
Senior linebacker Nathan Kranz flattened this BOLD receiver during the first half on Friday. He also recovered a fumble in the first half.
The Dogs outgained BOLD 325 yards to 290 yards, but the Warriors had four turnovers, including two in the fourth quarter.
BOLD was tied for second in the WCC South entering the game. Now, ACGC (4-1), Morris (4-1), and Yellow Medicine East (4-1) are tied for the conference lead with BOLD a game back.
The Dogs (2-4 overall) got their first conference win of the season. They could still finish as high as tied for fourth with wins in their remaining two games.
This week, the Dogs will travel to Montevideo on Friday. Next week, the Dogs will host Benson in their final regular season game on Wednesday, Oct. 18.
| | | | | | |
| --- | --- | --- | --- | --- | --- |
| BOLD-- | 0 | 6 | 15 | 0 | -- 21 |
| Paynesville-- | 6 | 14 | 0 | 15 | -- 35 |
Scoring Summary
First Quarter
Pay-Matt Hansen 6 run (kick failed);
Second Quarter
Pay-Alex Naujokas 35 pass from Ted Hoffman (Randy Leyendecker run);
Pay-Sam Bayer 30 run (kick failed);
BOLD-Bryce Steffel 60 pass from Grant Solem (kick failed);
Third Quarter
BOLD-Solem 5 run (Solem run);
BOLD-Solem 1 run (PAT kick);
Fourth Quarter
Pay-Naujokas 43 pass from Hoffman (Naujokas pass from Hoffman);
Pay-Bayer 1 run (Bayer kick).
Individual Statistics
Rushing (attempts-yards-TDs): Sam Bayer 20-85-2; Randy Leyendecker 10-47; Brett Savelkoul 11-43; Matt Hansen 3-10-1; Ted Hoffman 3-0; Mike Wendlandt 1-0;
Passing (completions-attempts-yards-TDs-INTs): Hoffman 8-15-140-2-1;
Receiving (receptions-yards-TDs): Alex Naujokas 5-119-2; Savelkoul 1-23; Bayer 1-5; Hansen 1-5;
Interceptions: Hansen 1; Savelkoul 1;
Fumble Recoveries: Nathan Kranz 1; Brad Torborg 1;
Kickoffs: Bayer 5-174; Cyril Storkamp 1-48;
Kickoff Returns: Savelkoul 1-42; Wendlandt 1-20; Leyendecker 1-18;
Punts: Kevin Klein 2-48;
Sacks: Klein 2; Jordan Spaeth 0.5; Torborg 0.5;
Tackles: Savelkoul 13; Bayer 10; Klein 7; Kranz 7; Spaeth 7.
---
Contact the author at editor@paynesvillepress.com • Return to Sports
Home | Marketplace | Community
---