The Paynesville boys' cross country team ran their best race so far this fall, finishing third at the nine-team BOLD meet on Thursday in Olivia.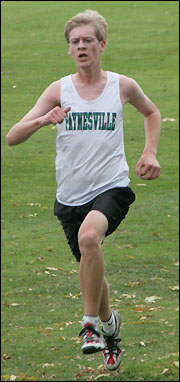 Coach Darrel Carstens, noting that the Dogs finished seven points out of first, said the boys ran their best race of the year.
Murray County Central/Fulda (57) won the boys' meet, edging Renville County West (58) by one point.
Senior Peder Thompson finished 20th overall at the BOLD Meet on Thursday, helping the Dogs take third as a team.
The Dogs were led by top-five finishes by eighth grader Tanner Wendroth (fourth) and senior Dugan Flanders (fifth). Wendroth was the Dogs' first runner for the second time this season, edging Flanders by six seconds. It was the first top-five finish of the year for both Wendroth and Flanders. Both have three top-ten finishes so far.
Flanders finished in the top ten for the second race in a row. He was named the "Performance of the Week" in the WCC North for boys' cross country - a new conference award this year - the previous week for his tenth-place finish at the Dogs' home meet.
Sophomore Josh Sturtz (16th), sophomore Ezra Thompson (19th), and senior Peder Thompson (20th) all finished in the top 20 to complete the Dogs' team score at BOLD.
Another highlight for the Dogs were eighth grader Trevor Spanier and seventh grader Patrick Hoeft finishing 1-2 in the junior high race. This week, the Dogs ran at Albany on Tuesday. Next week, the Dogs will run in the WCC North Meet at Albany again on Tuesday, Oct. 17.
Team Scores
1. Murray County Central/Fulda 57
2. Renville County West 58
3. Paynesville 64
4. MACCRAY 124
5. Redwood Valley 144
6. BOLD 152
Springfield/Cedar Mountain 152
8. BBE 181
9. ACGC 189
Individual Results
4. Tanner Wendroth 17:21
5. Dugan Flanders 17:27
16. Josh Sturtz 18:21
19. Ezra Thompson 18:48
20. Peder Thompson 18:57
28. Kohl Nehowig 19:14
---
Contact the author at editor@paynesvillepress.com • Return to Sports
Home | Marketplace | Community
---