When the Paynesville girls' cross country team runs at Becker again, they will need a better performance if they are going to qualify for a third straight state appearance.

Last week, the Bulldogs finished fourth at a meet at the Pebble Creek Golf Course in Becker, the site of the Section 5A meet later this month. Section favorite St. Cloud Cathedral won the meet with 45 points. Big Lake and Becker had 79 points each to finish second and third, and the Bulldogs finished fourth with 126.

Becker is also in Section 5A, so the Dogs will have to beat them the next time if they are going to earn a return trip to state. Only the top two teams in each section advance to state. The Bulldogs have won the Section 5A title the past two years.

Ninth grader Kacy Nehowig led the Bulldogs by placing second overall in 15:08. State-rated Beth Tacl of St. Cloud Cathedral took first, and Nehowig beat state-rated Libby Zupanc of Cathedral.

"Kacy ran a great race, and we had some personal bests, but as a team we need to make a move forward as two section teams beat us," said coach Darrel Carstens.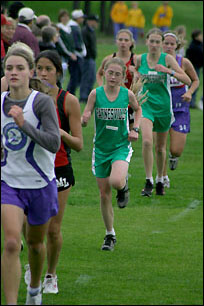 "We are now heading into the biggest meets of the year and it should be fun," added Carstens. "We are definitely capable of big things. There is a fine line between running and racing and when this entire group races, we will be good."
Ninth grader Tanis Beireis was the second runner for Paynesville again, finishing 11th. Eighth grader Kaitlyn Frenchick was the third runner for the Dogs again, finishing 28th.
Seventh grader Rheanne Zimmerman (front) and ninth grader Krista Wendroth finished 54th and 44th for the Bulldogs at Becker.
Ninth graders Melanie Koerner and Krista Wendroth completed the Dogs' team score by finishing 41st and 44th respectively.
Seventh grader Rheanne Zimmerman was 54th, and sophomore Sheena Hoekstra was 60th for the Bulldogs.
Eighth grader Tarin Beireis led the junior varsity girls by placing 30th. Sophomore Lindsey Wyffels was 37th, and senior Trisha Wendlandt was 47th.
In the junior high race seventh grader Shanna Hoekstra was 21st, seventh grader Kelsey Miller was 23rd, and eighth grader Allie Wendroth was 26th.
This week, the Bulldogs hosted the West Central Conference North meet on Tuesday at Koronis Hills. Next week, they will run in subsections at Annandale on Tuesday, Oct. 14, starting at 4:15 p.m.
Team Scores
1. St. Cloud Cathedral 45
2. Big Lake 79
3. Becker 79
4. Paynesville 126
5. Pine City 164
6. North Branch 167
7. Delano 200
8. Albany 222
9. Mora 225
10. Pierz 240
11. EV-W/Kimball 273
12. Holdingford INC.
13. St. John's Prep INC.
Individual Results
2. Kacy Nehowig 15:08
11. Tanis Beireis 15:59
28. Kaitlyn Frenchick 17:03
41. Melanie Koerner 17:58
44. Krista Wendroth 18:04
54. Rheanne Zimmerman 18:15
60. Sheena Hoekstra 19:10
---
Contact the author at editor@paynesvillepress.com • Return to Sports
Home | Marketplace | Community
---