Despite having 376 yards of offense and scoring 34 points, the Bulldogs football team lost their Homecoming game to Long Prairie-Grey Eagle 40-34 on Friday night.

After a back-and-forth first half, LPGE scored right before halftime to take an 18-14 lead and then scored again on their first possession of the second half to take the lead for good.

The two teams exchanged scores after that, with sophomore quarterback Jamie Paul hitting senior end Jordan Haag with a 10-yard touchdown pass in the last minute to cut LPGE's lead to 40-34. The Bulldogs tried their second onside kick in the fourth quarter, but LPGE recovered to seal the conference victory.

LPGE opened the game by returning the kickoff 71 yards for a touchdown, but the Bulldogs' offense responded with a four-play 59-yard scoring drive, with ninth grader Randy Leyendecker scoring on a six-yard touchdown run, his first of four scores on the night. Paul connected with senior Doug Mages for a two-point conversion that gave Paynesville an 8-6 lead.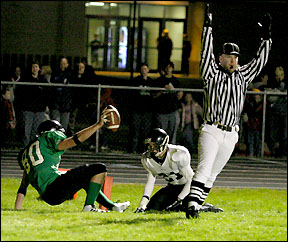 The Bulldogs forced LPGE to punt twice and had a chance to increase their lead with another drive deep into Thunder territory, but on fourth and inches the Dogs fumbled a bad snap and turned the ball over to LPGE, who completed three long passes and scored their second touchdown of the night.
The Bulldogs responded with a 13-play, 59-yard drive to retake the lead 14-12. Leyendecker scored again on a three-yard run. He ran seven times for 36 yards in the drive.
Senior Jordan Haag caought a 10-yard touchdown pass in the last minute of the game, making the final score 40-34.
Earlier in the drive, Leyendecker took a screen pass into the end zone, but this play was called back due to a penalty. After the penalty, Paul completed a 27-yard pass to Mages for a first down.
In their last possession before the half, LPGE scored again, driving 72 yards in nine plays, taking an 18-14 lead at the half.
After forcing Paynesville to punt to start the second half, LPGE drove 76 yards for another touchdown, with LPGE senior quarterback Coady Wardien hitting senior wide receiver Steve Gould for his second of three touchdowns.
Paynesville played catch-up for the rest of the game, scoring a touchdown to get within one score, but then allowing LPGE to score again.
The Bulldogs drove 67 yards, all on the ground, for another touchdown by Leyendecker to cut the lead to 26-22, but LPGE responded with a 66-yard scoring drive of their own, expanding the lead to 34-22.
In the fourth quarter, the Dogs drove 75 yards for another touchdown, Leyendecker's fourth, and tried an onside kick, trailing 34-28, but LPGE recovered. The Bulldogs forced LPGE to punt, but then went three-and-out. LPGE scored on their next possession, with Gould catching a 35-yard touchdown pass.
The Bulldogs drove 62 yards on four plays on their final possession, with Paul completing three passes for 52 yards, including two passes to Haag. LPGE was also called for pass interference on Haag in the endzone.
The Bulldogs had 376 yards of offense, with Leyendecker rushing for 159 yards and four touchdowns. Sophomore running back Aaron Bachman also rushed for 100 yards.
Paul completed 10 of 13 passes for 118 yards and one touchdown.
But LPGE outgained the Dogs, with Wardien completing 27 of 38 passes for 317 yards, Gould catching 14 passes for 145 yards and three touchdowns, and junior Tim Newberg grabbing 11 passes for 117 yards. LPGE also rushed for 72 yards.
Mages, a starting cornerback, broke his hand in the first half and did not play in the second half.
This week, the Bulldogs (now 0-3 in conference and 0-6 overall) will host Lac Qui Parle Valley on Friday night at 7:30 p.m.
| | | | | | |
| --- | --- | --- | --- | --- | --- |
| LPGE-- | 6 | 12 | 16 | 6 | -- 40 |
| Paynesville-- | 8 | 6 | 8 | 12 | -- 34 |
Scoring Summary
First Quarter
LPGE-Bryce Brunswig 71 kickoff return (kick failed);
Pay-Randy Leyendecker 6 run (Jamie Paul pass to Doug Mages);
Second Quarter
LPGE-Steve Gould 24 pass from Cody Wardien (pass failed);
Pay-Leyendecker 3 run (pass failed);
LPGE-Kyle Oostra 11 run (pass failed);
Third Quarter
LPGE-Gould 6 pass from Wardien (Wardien run);
Pay-Leyendecker 3 run (Paul pass to Mike Mueller);
LPGE-Dustin VanNorman 6 run (Wardien pass to Tim Newberg);
Fourth Quarter
Pay-Leyendecker 2 run (pass failed);
LPGE-Gould 35 pass from Wardien (pass failed);
Pay-Jordan Haag 10 pass from Paul (pass failed).
Individual Statistics
Rushing (attempts-yards-TDs): Randy Leyendecker 28-159-4; Aaron Bachman 18-100; Mike Mueller 2-0; Jamie Paul 5-(-1);
Passing (completions-attempts-yards-TDs): Paul 10-13-118-1;
Receiving (receptions-yards-TDs): Doug Mages 4-60; Mueller 4-48; Jordan Haag 2-20-1; Leyendecker 1-(-4).
---
Contact the author at editor@paynesvillepress.com • Return to Sports
Home | Marketplace | Community
---