Thyen inducted into the EV-W Hall of Fame
This article submitted by Michael Jacobson on 10/6/99.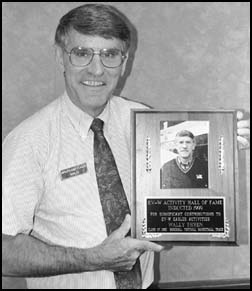 For 37 years now, Wally Thyen has been a grocer in Paynesville, earning a reputation for friendliness and industriousness. Those traits have roots back to his high school days, and last week he was recognized by his old school for his prowess in athletics.

Thyen was inducted into the Eden Valley-Watkins Activity Hall of Fame on Friday, Sept. 24, at halftime of the EV-W Homecoming football game. Thyen received a plaque commemorating his induction. An identical plaque will be on display at Eden Valley-Watkins High School. The Hall of Fame is in its second year; seven members were inducted last year and three more, including Thyen, this year.

"I had to dig out my old scrapbooks," Thyen said, of preparing for his induction. "It was kind of fun to read them and remember all the fun we had."

Thyen, a 1960 graduate of Eden Valley High School, actually grew up in Richmond, where students whose parents could afford private school went to St. Boniface in Cold Spring while the rest attended EVHS. He played football, basketball, and baseball, and also ran track. He earned 12 letters during high school.

In football, as a halfback and safety, he lettered two years and was All Conference both years. As a senior, he scored 108 points, rushed for 1,156 yards, and was named to the West Central Tribune's All Area Team. That year, according to Thyen, the Eden Valley team outscored its opponents 225-13, but all 13 points came in a 13-6 defeat to Atwater, a loss that snapped a 19-game winning streak for EVHS.

Thyen's job in two varsity seasons on the basketball team was to rebound. They relied on a fast-break style of play, and, as a forward, Thyen started the break with rebounds and outlet passes.

The gym at EVHS was small; the top of the key on both sides intersected with the center court circle. "We scored a lot of points without dribbling the ball," Thyen said.

As a senior, his team lost three games by a total of five points.

In those days, Eden Valley played in a conference with Atwater, Belgrade, Brooten, Grove City, Kerkhoven, New London, and Raymond, but they usually played Paynesville in nonconference games. "I always remember coming to Paynesville. It was the best gym we played at," recalled Thyen, referring to what is now called the elementary gymnasium.

In the spring, Thyen would play baseball and run track. In those days, students were allowed to participate in two sports at the same time. Thyen would juggle his practice schedule to squeeze in some track sprints. He lettered in each sport four times.

As a senior in track, he qualified for regions in the 100-yard dash. At St. Cloud State University, he narrowly missed advancing to state. "I took off and I thought I jumped the gun," Thyen said, "so I let up a little bit." He recovered to finish just short of qualifying for state.

In baseball, the EVHS team had the most success when Thyen was a sophomore. They beat Litchfield and Willmar to advance to regions, where they faced Richfield in St. Cloud and lost 2-1 in extra innings. Richfield, led by future major leaguer Bill Davis, were the state runners-up that year.

In his first two seasons on the varsity baseball team, Thyen played outfield. His junior year he moved to shortstop, and his senior year he pitched a lot. He also started to play for the Richmond town team as a freshman in high school.

"I had a lot of fun doing it all. I really enjoyed high school sports," said Thyen. "You probably realize the value after you graduate."

After graduating, Thyen tried out with the St. Cloud Rox, a minor league affiliate of the Chicago Cubs. When he was in high school, he would hitchhike with friends to watch Rox games and future major league stars like Willie McCovey and Orlando Cepeda.

Thyen practiced with the Rox for several days. His tryout attracted spectators from Richmond.

The Cubs signed him to a contract and sent him to a rookie league in Tennessee. Jim Rantz, now a Minnesota Twins executive, pitched in that league, having just ended his career as a Minnesota Gopher. Tony Oliva, who went on to be a star player for the Twins, also was in the league.

"We had stiff competition," said Thyen. "There were good pitchers in that league."

Thyen attended St. Cloud State University that winter, and practiced with the basketball team to stay in shape. In the spring, he was invited to the Cubs' spring training in Mesa, Ariz. He was assigned to the minor league camp. Future Hall of Famer Ernie Banks was playing for the Cubs in those days.

Competing with Thyen for a spot with the Rox was Lou Brock, another future Hall of Famer. "I could run, I could catch, I could throw, but I couldn't hit," recalled Thyen. The Cubs released Thyen and kept Brock, who would reach 3,000 hits in his major league career and set an all-time record for career stolen bases with 938, later broken by Rickey Henderson.

"I think they made the right choice," quipped╩Thyen, who went to watch Brock play for the Rox after his release.

Thyen was contacted by other major league teams after his release, but he turned them down, having already settled back home, playing with the Richmond town team again. Soon he was married to his wife, Darlene.

One of his high school coaches used to preach to Thyen, "Do more than expected." That's a phrase that Thyen has used for years now at his grocery store in Paynesville. He credits his work ethic on the field to his present vocation. He felt his hustle on the field impressed Elmo Gaspar, of Eden Valley, who started Thyen in the grocery business in Paynesville.

"I wish I would have tried harder than I did, and I always felt like I gave 100 percent," said Thyen, of his athletic career. "It's always those little extra things that can make you a better businessman or a better athlete."
---