Girls finish third at home meet
This article submitted by Erin Aagesen on 9/29/99.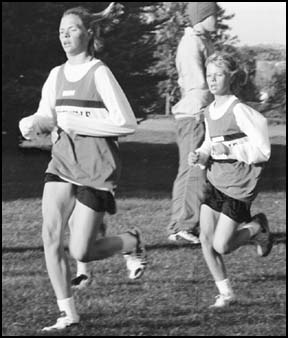 The girls placed third at their home meet last Thursday, with help from Jen Hess's first place finish in 15:38. The meet took place at Koronis Hills Golf Course in cold, blustery weather.

Kim Hess finished the race in 16:52, earning 13th place and a medal. Next in, in 26th and 27th, were Danielle Lieser and Erin Aagesen. Lieser finished in 17:54, while Aagesen crossed the line in 17:58.

Carin Frenchick, finishing fifth for the Bulldogs and 35th overall, ran hard and completed the race in 18:21. Mesa Frenchick (44) was the next runner in with Tiff Rausch (48) close behind. Frenchick's time was 18:49, and Rausch's 19:03.

Sauk Centre won the meet with a total of 50, and Sauk Rapids was next with 90. Paynesville was third with 101.

The team ran yesterday at the Sauk Centre invite. Results will be in next week's issue of the Press.

Danielle Lieser and Kim Hess head down at hill during the cross country meet at Koronis Hills.

Varsity team standings
1. Sauk Centre - 50
2. Sauk Rapids - 95
3. Paynesville - 101
4. Minnewaska - 117
5. Rocori - 121
6. Holdingford - 136
7. St. Cloud Cathedral - 138
8. New London-Spicer - 165
9. LPGE - 222
10. ACGC - 239
11. Dassel-Cokato - Inc.
---