Lang's first-place finish leads boys at Paynesville
This article submitted by Ryan Flanders on 10/6/99.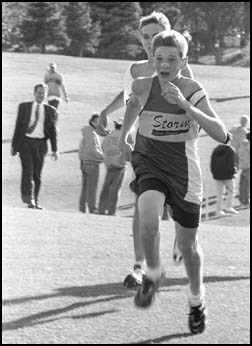 Paynesville's 12-team home cross country meet last Thursday yielded the fourth-rated Bulldogs a second place finish to third-rated Cathedral.

The winner of the meet was Paynesville's own Clayton Lang! The hills and wind may have taken their toll on the other runners, but Clayton stayed strong throughout the entire race to beat out the nearest competitor by a whopping 15 seconds. Running 16:43 at Paynesville's course on a windy day is a feat that requires the talent and determination of a high caliber runner, which Clayton has proven himself to be.

The second runner for Paynesville was Adam Utsch. He ran a strong race and earned a sixth place finish. Adam has been a consistent and valuable runner to the team throughout the season.

Paynesville's third runner was Luc Trees, who finished in 18th place with a time of 18:24. Luc is a talented runner who will hopefully prove his potential.

Ryan Flanders filled in the team's fourth spot, finishing 19th with a time of 18:25. Ryan is typically the team's sixth or seventh runner, but his teammates weren't all completely healthy.

Riley Flanders was the fifth Bulldog to cross the finish line. Riley didn't let a cold get the best of him, and was still able to finish in 23rd place with a time of 18:30.

The Bulldogs' sixth runner, Eric Korman, was also plagued with a cold. But he, too, was able to finish with a time of 18:49 in 28th place.

Eric Korman chases a Sauk Rapids runner to the finish line Thursday.

Dan Pearson was Paynesville's seventh runner. His consistency may have been interrupted because he was sick, but he still kept his hard working attitude and was able to run a respectable race as a result.

Though illness kept the team as a whole from being as competitve as they had wished, they were still able to make an impressive show and cap the day with some excellent individual perfomances on the varsity and junior varsity squads.

The Bulldogs ran at Sauk Centre yesterday.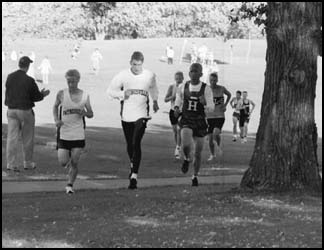 Varsity team standings
1. Cathedral - 36
2. Paynesville - 67
3. New London-Spicer - 129
4. Sauk Centre - 132
5. Rocori -147
6. Sauk Rapids -149
7. LPGE -158
8. Dassel-Cokato -258
9. Litchfield -276
10. Minnewaska -Inc.
11. Holdingford -Inc.
12. ACGC -Inc.
Ryan Flanders and Luc Trees head through some trees as they approach the finish line. They finished a second apart.
---