The Paynesville boys' cross country team finished ninth out of 13 teams at their home meet on Thursday at Koronis Hills Golf Course.

Sauk Rapids, a Class AA school, edged St. Cloud Cathedral, a Class A school, for the team title.

The Dogs ran without their top runner, senior Matt Mehr, who is out with an injury.

Sophomore Dugan Flanders led the Dogs by finishing 27th overall. Sophomore Peder Thompson (38th), eighth grader Josh Sturtz (44th), senior Chris Utsch (49th), and eighth grader Jamison Wall (56th) completed the Dogs' team score.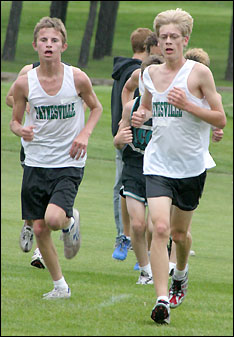 Coach Darrel Carstens said he was pleased with the way the Dogs ran in the meet, better than at their previous meet, but they need to continue to improve as the conference, subsection, and section meets approach.
Sophomore Peder Thompson (center) and eighth grader Josh Sturtz (left) were the second and third runners for Paynesville, finishing eight seconds apart.
This week, the Dogs ran at Becker, the site of the section meet, on Tuesday. Next week, the Dogs will compete in the West Central Conference North Meet, hosted by Sauk Centre on Tuesday, Oct. 12.
Team Scores
1. Sauk Rapids 51
2. St. Cloud Cathedral 63
3. New London-Spicer 112
4. Litchfield 136
5. Annandale 139
6. Rocori 152
7. Mayer Lutheran 161
8. LPGE 177
9. Paynesville 214
10. Minnewaska 250
11. ACGC 279
12. Dassel-Cokato Inc.
13. EV-W/Kimball Inc.
Individual Results
27. Dugan Flanders 18:47
38. Peder Thompson 19:13
44. Josh Sturtz 19:21
49. Chris Utsch 19:33
56. Jamison Wall 19:50
63. Todd Thielen 20:23
64. Nathan Friederichs 20:28
---
Contact the author at editor@paynesvillepress.com • Return to Sports
Home | Marketplace | Community
---