Three teams edged the Bulldogs girls' cross country team at their home meet on Thursday at Koronis Hills. Paynesville finished fifth in the 13-team meet, just seven points out of second.

Just six points separated second from fifth. Litchfield (123) was second, Annandale (127) was third, New London-Spicer (128) was one point back in fourth, and the Dogs (129) were another point back in fifth. St. Cloud Cathedral, a conference and section rival of the Dogs, won the meet with 85 points.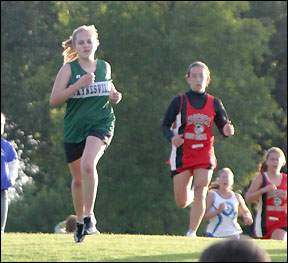 Ninth grader Linda Keller led the Dogs with another top-five finish. She ran third on Thursday in her first home meet.
Junior Kacy Nehowig and sophomore Kaitlyn Frenchick recorded top-15 finishes for the Dogs. Nehowig was 11th, and Frenchick 15th.
Senior Sheena Hoekstra races towards the finish line against a competitor on Thursday at Koronis Hills. Hoekstra was the Dogs' fifth runner.
Sophomore Melanie Koerner (44th) and senior Sheena Hoekstra (56th) completed the Dogs' team score on Thursday.
"We're running OK, a little tight," said coach Darrel Carstens, "but we've had two weeks of hard workouts, and we're looking forward to cutting back some for the big meets ahead."
The Dogs have finished their regular season. They do not have a meet this week, but next week they start their postseason with the West Central Conference North Meet at St. Cloud on Tuesday, Oct. 11.
Team Scores
1. Cathedral 85
2. Litchfield 123
3. Annandale 127
4. New London-Spicer 128
5. Paynesville 129
6. Sauk Rapids 136
7. LPGE 160
8. Rocori 166
9. Eden Valley-Watkins/Kimball 199
10. Mayer Lutheran 243
11. ACGC 279
Dassel-Cokato Inc.
Minnewaska Inc.
Individual Results
3. Linda Keller 16:50
11. Kacy Nehowig 17:46
15. Kaitlyn Frenchick 17:56v 44. Melanie Koerner 19:56
56. Sheena Hoekstra 20:35
67. Kirsten Miller 22:48
Kally Felling DNF
---
Contact the author at editor@paynesvillepress.com • Return to Sports
Home | Marketplace | Community
---