The Paynesville Bulldogs boys' cross country team nipped Mayer Lutheran by a point to take eighth place at their home meet at Koronis Hills on Thursday.

The Dogs scored 228 to beat Mayer Lutheran, which had 229, in the 13-team meet.

St. Cloud Cathedral, rated #1 in the state in Class A, had five runners in the top ten, including the winner, to win the meet with a team score of 32.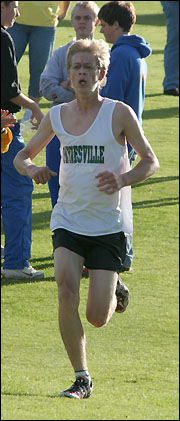 Junior Dugan Flanders led the Dogs, finishing 24th overall. Ninth grader Jonathan Kerzman finished 15 seconds behind Flanders in 29th place.
Junior Peder Thompson finished as the Dogs' third runner on Thursday at Koronis Hills, finishing 55th overall at the 13-team home meet.
Junior Peder Thompson (55th), ninth grader Nathan Friederichs (59th), and ninth grader Jamison Wall (61st) completed the Dogs' team score.
"We're running OK, a little tight," said coach Darrel Carstens, "but we've had two weeks of hard workouts, and we're looking forward to cutting back some for the big meets ahead."
The Dogs have finished their regular season. They do not have a meet this week, but next week they start their postseason with the West Central Conference North Meet at St. Cloud on Tuesday, Oct. 11.
Team Scores
1. Cathedral 32
2. Annandale 62
3. Sauk Rapids 100
4. LPGE 111
5. New London-Spicer 151
6. Rocori 172
7. Litchfield 198
8. Paynesville 228
9. Mayer Lutheran 229
10. Dassel-Cokato 243
11. ACGC 275
Eden Valley-Watkins/Kimball Inc. Minnewaska Inc.
Individual Results
24. Dugan Flanders 18:46
29. Jonathan Kerzman 19:01
55. Peder Thompson 20:29
59. Nathan Friederichs 20:44
61. Jamison Wall 20:51
63. Ezra Thompson 20:52
66. Chris Block 21:30
---
Contact the author at editor@paynesvillepress.com • Return to Sports
Home | Marketplace | Community
---